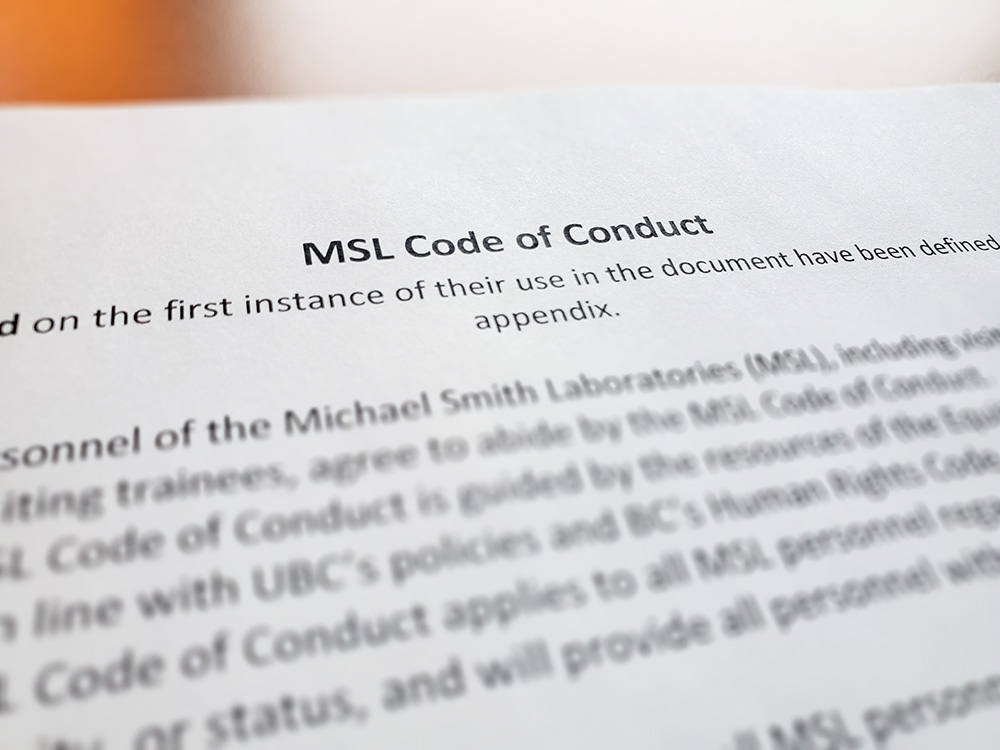 What is a code of conduct?
Collectively, we share the responsibility for ensuring and maintaining an environment that is free from discrimination and harassment. To that end, we will continue to foster environments and learning that helps support these goals of creating an equitable and mutually supportive work environment.
A code of conduct is a document that outlines the rules, responsibilities, and expectations of acceptable behaviours of all individuals within an organization (1,2). This document allows for an inclusive working environment for all employees (3).  Codes of conduct are created to make clear that any form of discrimination and harassment in the workplace is not acceptable, and aim to provide all employees with equitable and equal opportunities (1,2).           
This code of conduct has been written by the MSL Code of Conduct Committee with input from the MSL EDI Committee.  In the future, the MSL EDI Committee will be responsible for modifying and approving changes to the Code of Conduct as needed and providing a plan for educating all MSL personnel on the Code of Conduct and related EDI policies. The EDI committee will also strive to provide the MSL community with guidance to available UBC resources both to encourage respectful behaviour and equitable outcomes, and to ensure that all MSL members know what avenues of recourse they have when they are subjected to discrimination/harassment/misconduct of any sort.
J. Adams, A. Tashchian, and T. Shore, "Codes of Ethics as Signals for Ethical Behavior," Fac. Publ., Feb. 2001.
G. Wood and M. Rimmer, "Codes of Ethics: What Are They Really and What Should They Be?," Int. J. Value-Based Manag., vol. 16, pp. 181–195, May 2003.
B. Favaro et al., "Your Science Conference Should Have a Code of Conduct," Front. Mar. Sci., vol. 3, 2016.
Code of Conduct definitions appendix