BioProducts Institute and the Clean Energy Research Centre: Brian Ahearn
September 11, 2019 @ 12:00 pm

-

1:00 pm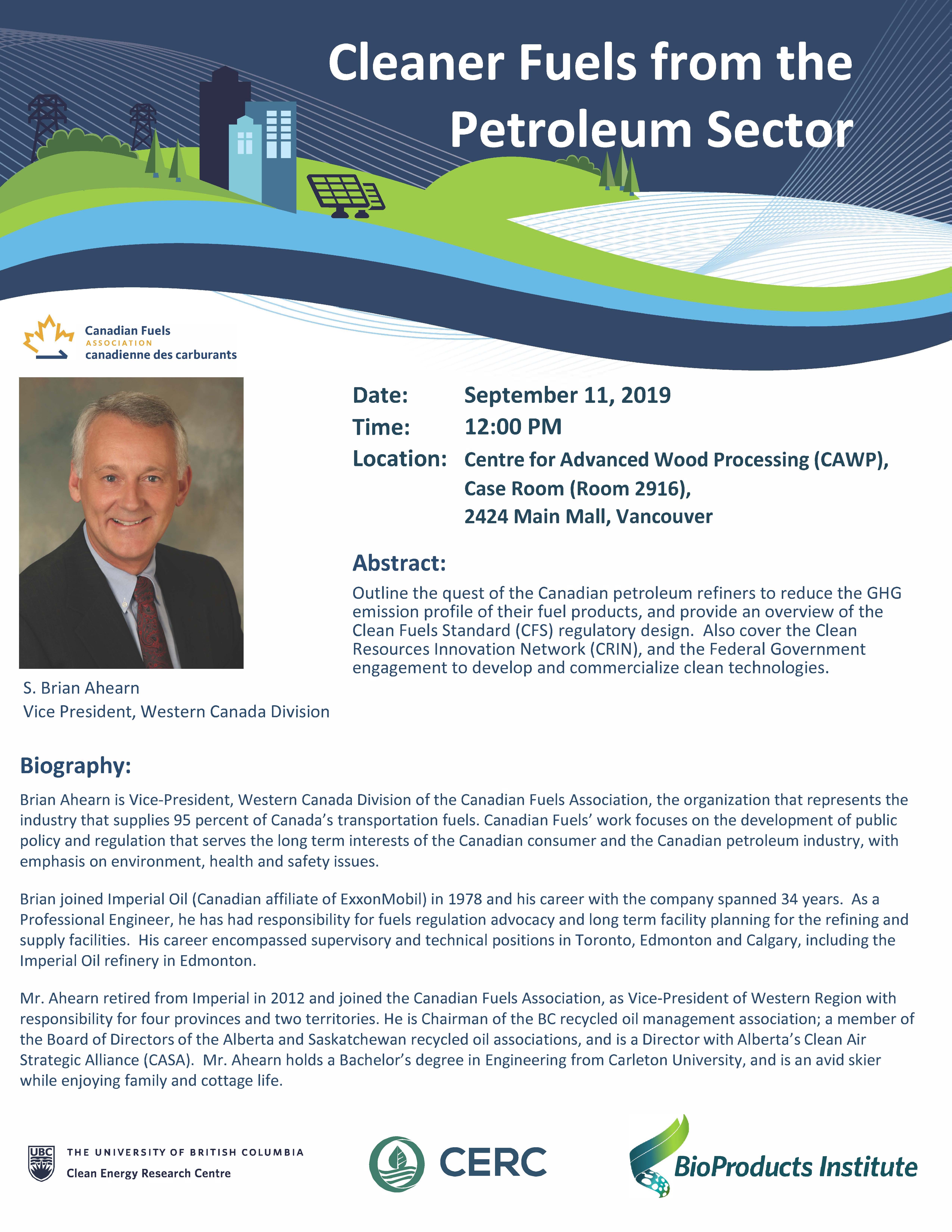 The Bioproducts Institute and the Clean Energy Research Centre presents a seminar:
S. Brian Ahearn
Vice President, Western Canada Division
Canadian Fuels Association
Date: Wednesday, September 11, 2019
Time: 12 PM 
Location: Centre for Advanced Wood Processing (CAWP), Case Room (Room 2916)
Abstract:
Outline the quest of the Canadian petroleum refiners to reduce the GHG emission profile of their fuel products, and provide an overview of the Clean Fuel Standard (CFS) regulatory design. The seminar will also cover the Clean Resources Innovation Network (CRIN), and the Federal Government engagement to develop and commercialize clean technologies.
Biography:
Brian Ahearn is Vice-President, Western Canada Division of the Canadian Fuels Association, the organization that represents the industry that supplies 95 percent of Canada's transportation fuels. Canadian Fuels' work focuses on the development of public policy and regulation that serves the long term interests of the Canadian consumer and the Canadian petroleum industry, with emphasis on environment, health and safety issues.
Brian joined Imperial Oil (Canadian affiliate of ExxonMobil) in 1978 and his career with the company spanned 34 years. As a Professional Engineer, he has had responsibility for fuels regulation advocacy and long term facility planning for the refining and supply facilities. His career encompassed supervisory and technical positions in Toronto, Edmonton and Calgary, including the Imperial Oil refinery in Edmonton.
Mr. Ahearn retired from Imperial in 2012 and joined the Canadian Fuels Association, as Vice-President of Western Region with responsibility for four provinces and two territories. He is Chairman of the BC recycled oil management association; a member of the Board of Directors of the Alberta and Saskatchewan recycled oil associations, and is a Director with Alberta's Clean Air Strategic Alliance (CASA). Mr. Ahearn holds a Bachelor's degree in Engineering from Carleton University, and is an avid skier while enjoying family and cottage life.
Related Events