Canadian Bioinformatics Workshops: Bioinformatics for Cancer Genomics — CANCELLED
June 22, 2020

-

June 26, 2020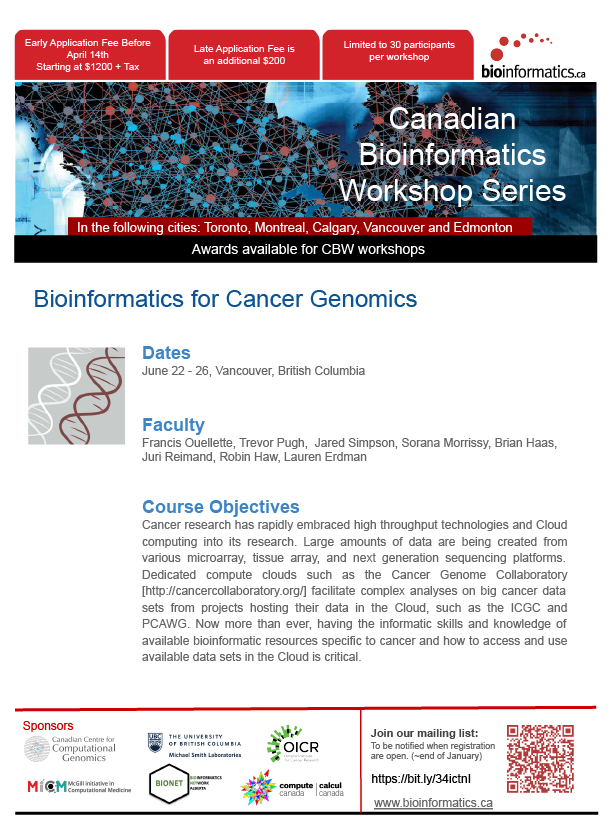 The Canadian Bioinformatics Workshops: Bioinformatics for Cancer Genomics has been cancelled.
Canadian Bioinformatics Workshop: Summer 2020
Bioinformatics for Cancer Genomics
Dates
June 22 – 26, Michael Smith Laboratories, Vancouver, British Columbia
Faculty
Francis Ouellette, Trevor Pugh, Jared Simpson, Sorana Morrissy, Brian Haas, Juri Reimand, Robin Haw, Lauren Erdman
Course Objectives
Cancer research has rapidly embraced high throughput technologies and Cloud computing into its research. Large amounts of data are being created from various microarray, tissue array, and next generation sequencing platforms. Dedicated compute clouds such as the Cancer Genome Collaboratory [http://cancercollaboratory.org/] facilitate complex analyses on big cancer data sets from projects hosting their data in the Cloud, such as the ICGC and PCAWG. Now more than ever, having the informatic skills and knowledge of available bioinformatic resources specific to cancer and how to access and use available data sets in the Cloud is critical.
For more information and other bioinformatics workshops, please visit bioinformatics.ca/workshops/2020-bioinformatics-for-cancer-genomics/