Centre for Heart Lung Innovation (HLI) Career Paths for Researchers Program: Dr. Ganive Bhinder
September 26, 2019 @ 11:30 am

-

12:30 pm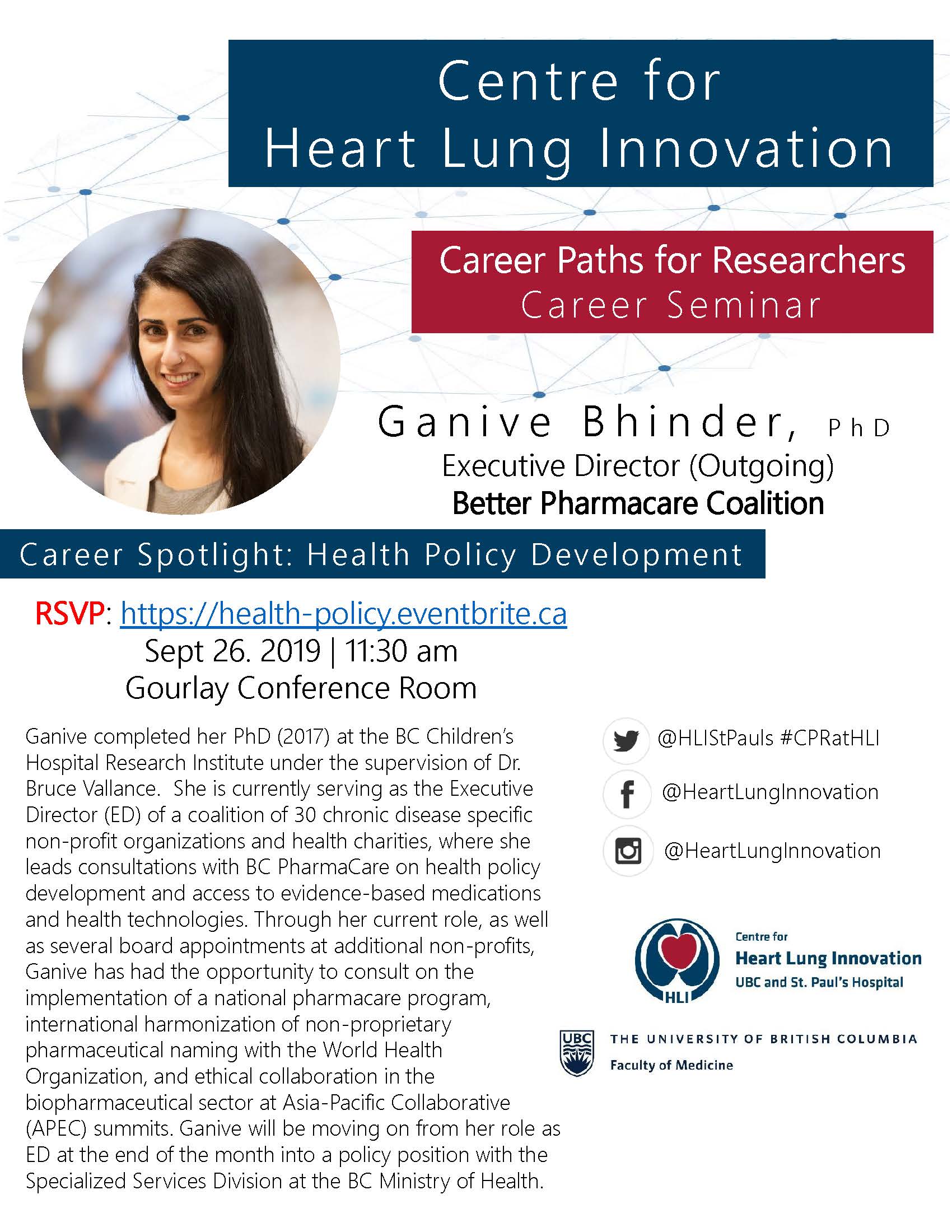 The Centre for Heart Lung Innovation (HLI) Career Paths for Researchers Program presents a seminar:
Dr. Ganive Bhinder
Executive Director (Outgoing)
Better Pharmacare Coalition
Date: Thursday, September 26, 2019
Time: 11:30 AM
Location: Gourlay Conference Room
Title: Career Spotlight: Health Policy Development
Bio: Ganive completed her PhD (2017) at the BC Children's Hospital Research Institute under the supervision of Dr. Bruce Vallance. She is currently serving as the Executive Director (ED) of a coalition of 30 chronic disease specific non-profit organizations and health charities, where she leads consultations with BC PharmaCare on health policy development and access to evidence-based medications and health technologies. Through her current role, as well as several board appointments at additional non-profits, Ganive has had the opportunity to consult on the implementation of a national pharmacare program, international harmonization of non-proprietary pharmaceutical naming with the World Health Organization, and ethical collaboration in the biopharmaceutical sector at Asia-Pacific Collaborative (APEC) summits. Ganive will be moving on from her role as ED at the end of the month into a policy position with the Specialized Services Division at the BC Ministry of Health.
Join us to learn about Dr. Ganive Bhinder's career path and current/future role in Health Policy!
Refreshments Provided | Registration is required!