Department of Microbiology and Immunology: Dr. Meena G. Nair
March 26, 2019 @ 12:30 pm

-

1:30 pm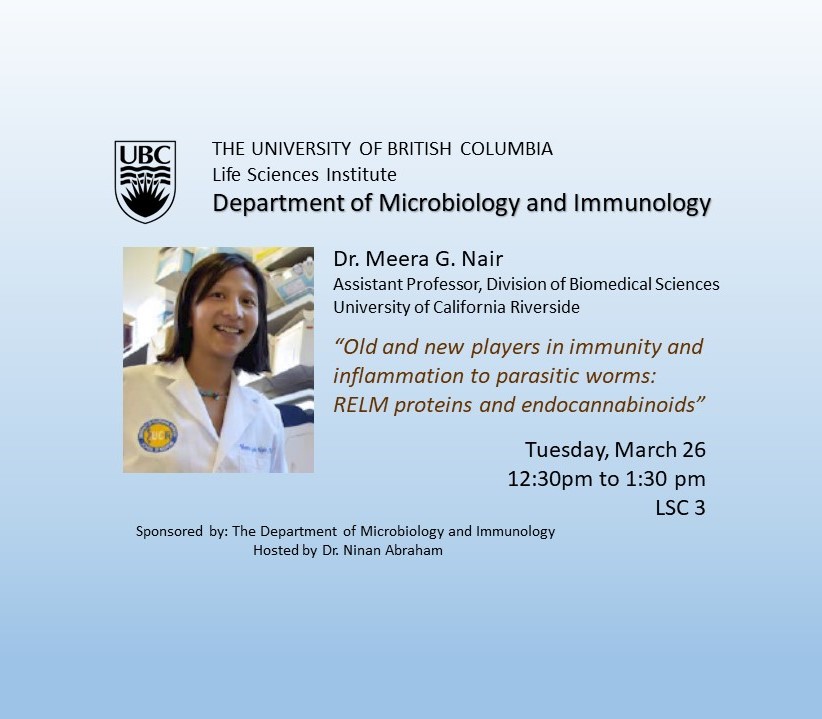 Dr. Meera G. Nair
Assistant Professor
Division of Biomedical Sciences University of California Riverside
Tuesday, March 26, 2019
12:30pm to 1:30pm
LSC 3
Abstract:
My lab investigates the immune mechanisms underlying lung and intestinal helminth infection. We investigate macrophages, a critical innate cell-type that plays a role in immunity to helminths. Dependent on the activation stimuli, macrophages can either be beneficial by clearing debris, dead cells and restoring immune homeostasis, or pathologic, by exacerbating inflammation. We are interested in delineating the protective versus pathogenic activation pathways and macrophage-secreted molecules that can be targeted to treat inflammation. We previously identified the Resistin-Like Molecules (RELM) – murine RELMa and human resistin – as macrophage-secreted proteins that regulate the balance between immunity and inflammation to helminth pathogens. For this research, we have established clinical collaborations, developed preclinical models of helminth infection and sepsis, and generated macrophage and RELM reporter mice.
Based on these tools and my expertise, my lab's research addresses three main questions:
(1) Investigate how do macrophages contribute to mucosal immunity and inflammation to helminths.
(2) Elucidate the functional significance of Resistin-Like Molecules (RELM) in these infection models.
(3) Identify new pathways of helminth-host communication such as endocannabinoids.