Department of Microbiology and Immunology Seminar: Dr. Ethan Garner
January 15, 2019 @ 12:30 pm

-

1:30 pm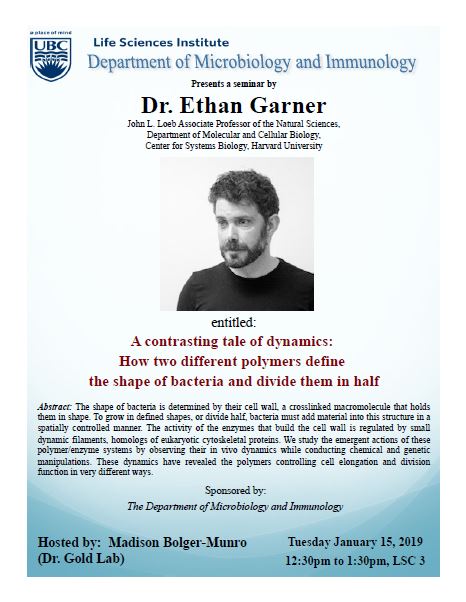 The Department of Microbiology and Immunology presents a Seminar:
Dr. Ethan Garner
John L. Loeb Associate Professor of the Natural Sciences,
Department of Molecular and Cellular Biology,
Center for Systems Biology, Harvard University
Date: Tuesday January 15, 2019
Time: 12:30pm to 1:30pm
Location: LSC 3
Title: A contrasting tale of dynamics: How two different polymers define the shape of bacteria and divide them in half
Abstract: The shape of bacteria is determined by their cell wall, a crosslinked macromolecule that holds them in shape. To grow in defined shapes, or divide half, bacteria must add material into this structure in a spatially controlled manner. The activity of the enzymes that build the cell wall is regulated by small dynamic filaments, homologs of eukaryotic cytoskeletal proteins. We study the emergent actions of these polymer/enzyme systems by observing their in vivo dynamics while conducting chemical and genetic manipulations. These dynamics have revealed the polymers controlling cell elongation and division function in very different ways.
Sponsored by: The Department of Microbiology and Immunology
Hosted by: Madison Bolger-Munro (Dr. Gold's Lab)