Engineering human-scale pancreatic islet encapsulation systems to treat diabetes
December 1, 2021 @ 2:00 pm

-

3:00 pm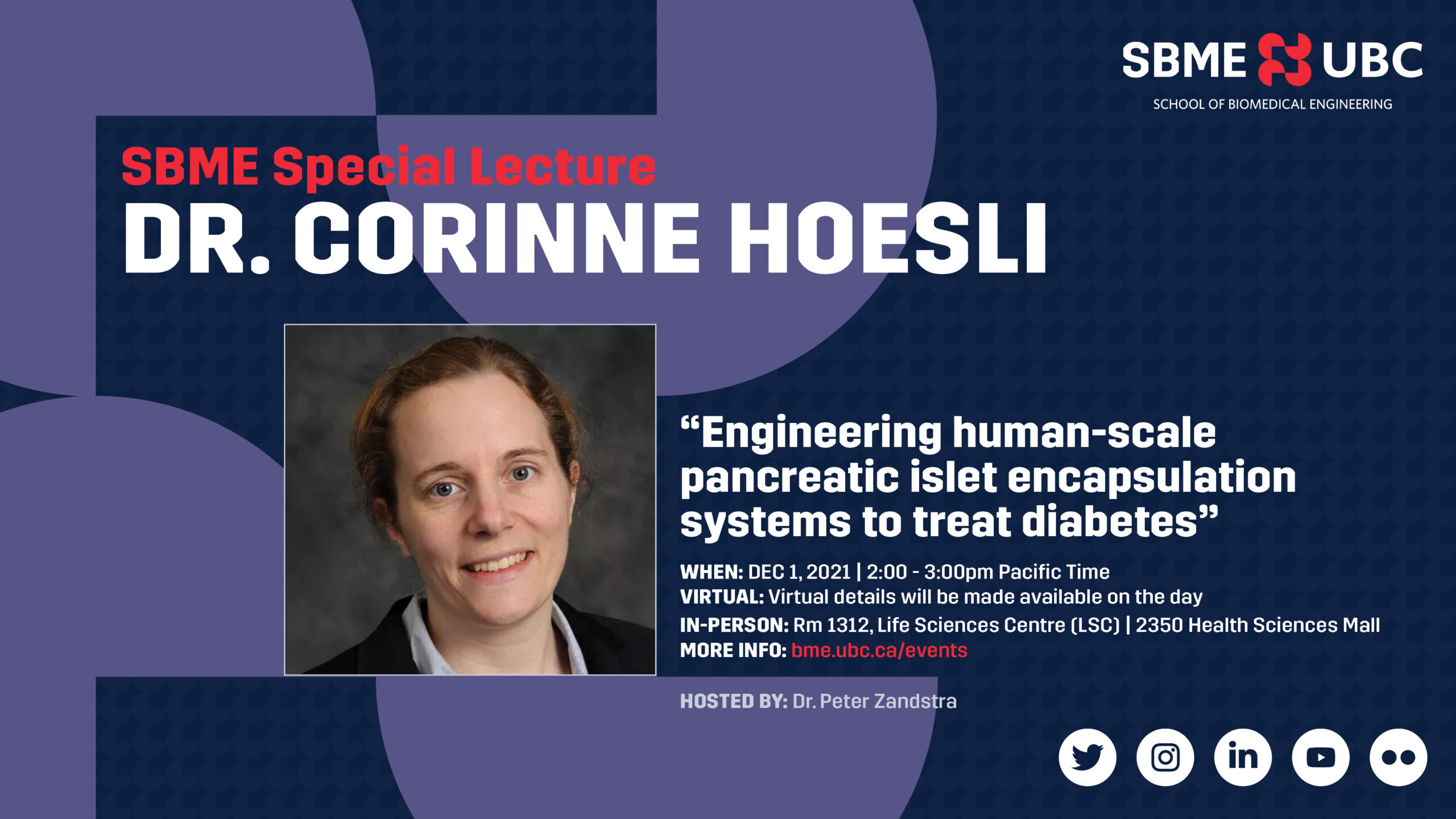 DETAILS
When: December 1, 2-3pm Pacific Time
Where: This is a hybrid virtual and in-person event
IN-PERSON: Room 1312, Life Sciences Centre (LSC) | 2350 Health Sciences Mall.
VIRTUAL: Zoom details will be emailed out to the community on the morning of the event. For special arrangements, please email events@sbme.ubc.ca
Host: Dr. Peter Zandstra
ABSTRACT
As Canadians are celebrating the 100 years of the discovery of insulin, there is new hope for a long-lasting treatment in the form of cell-based therapies for type 1 diabetes. Stem cell-derived pseudo-islets provide a virtually unlimited cell source for transplantation, but efficacy in patients without the use of immunosuppression remains to be demonstrated. Creating a barrier between the graft and the recipient through encapsulation can potentially provide immunoprotection as well as containment of stem cell-derived products. However, encapsulation can also exacerbate oxygen supply limitations – in particular when delivering human-scale cell doses. This seminar will provide an overview of islet encapsulation technologies being developed in the Hoesli Stem Cell Bioprocessing Laboratory – ranging from emulsion-based microencapsulation systems to 3D printed vascularized tissue models – with a focus on scale-up potential and oxygenation of human-scale engineered tissues.
SPEAKER
Dr. Corinne Hoesli
Associate Professor, Chemical Engineering | McGill
Canada Research Chair (Tier II) in Cellular Therapy Bioprocess Engineering
Visit the Hoesli Lab

Prof. Corinne Hoesli is the head of the Stem Cell Bioprocessing Laboratory at McGill University. She joined the Department of Chemical Engineering as an Assistant Professor in August 2014. She is a biochemical engineer with expertise in bioprocess development, high‑throughput screening and stem cell culture optimization. In 2014, she received the Martin Sinacore Outstanding Young Investigator Award conferred by Engineering Conferences International and Biogen Idec in recognition of her leadership in bioprocess engineering. Her research aims to develop bioprocesses to produce and transplant therapeutic cells to treat diabetes and cardiovascular disease. She notably developed new methods to encapsulate pancreatic islets, as well as vascular biomaterials surface modification strategies.
Related Events