MSL Faculty Candidate Seminar: Dr. Grace Yim
February 26, 2020 @ 9:00 am

-

10:00 am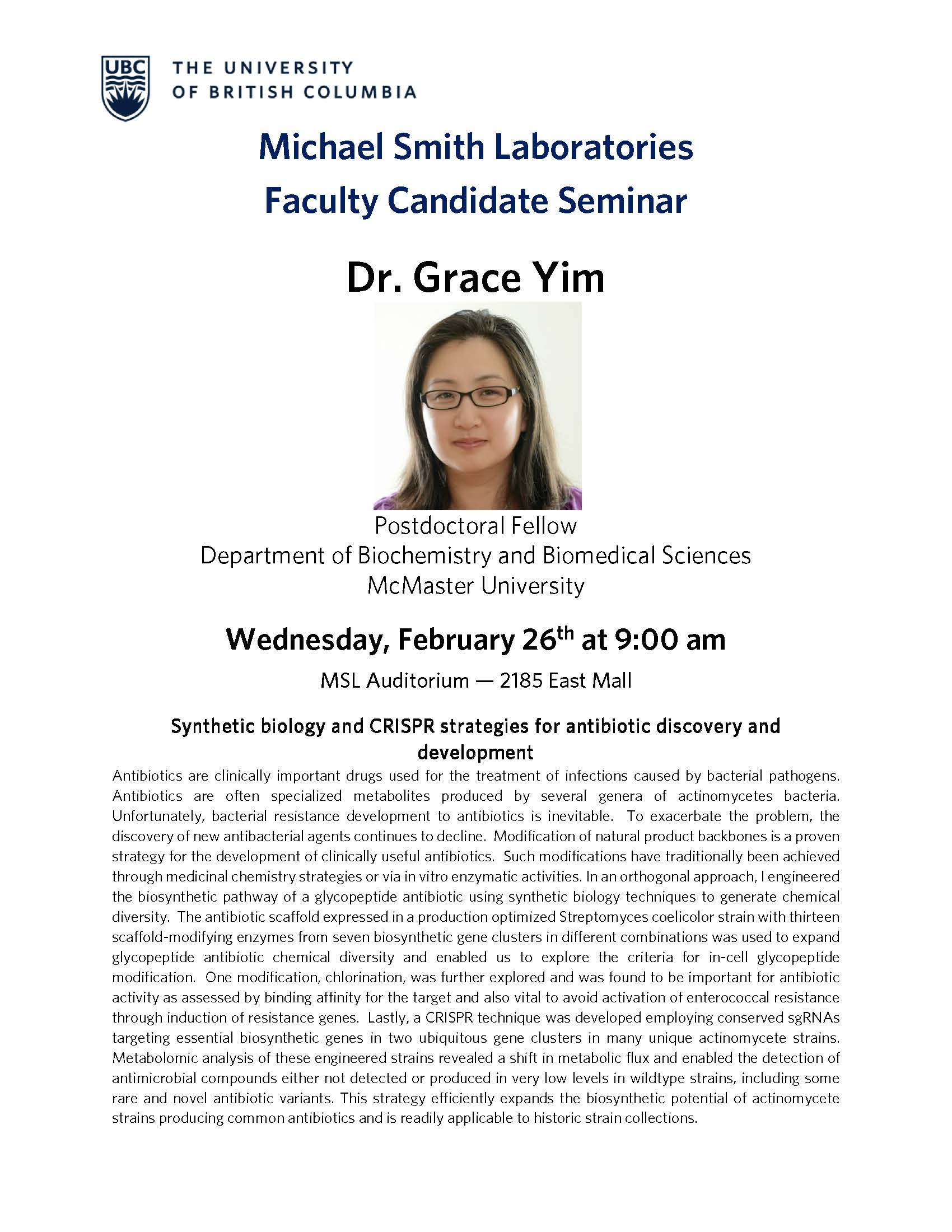 The Michael Smith Laboratories presents a faculty candidate seminar:
Dr. Grace Yim
Postdoctoral Fellow
Department of Biochemistry and Biomedical Sciences
McMaster University
Date: Wednesday, February 26th 
Time: 9:00 AM 
Location: MSL Auditorium (MSL 102) – 2185 East Mall
Title: Synthetic biology and CRISPR strategies for antibiotic discovery and development
Abstract: Antibiotics are clinically important drugs used for the treatment of infections caused by bacterial pathogens. Antibiotics are often specialized metabolites produced by several genera of actinomycetes bacteria.  Unfortunately, bacterial resistance development to antibiotics is inevitable. To exacerbate the problem, the discovery of new antibacterial agents continues to decline. Modification of natural product backbones is a proven strategy for the development of clinically useful antibiotics. Such modifications have traditionally been achieved through medicinal chemistry strategies or via in vitro enzymatic activities. In an orthogonal approach, I engineered the biosynthetic pathway of a glycopeptide antibiotic using synthetic biology techniques to generate chemical diversity. The antibiotic scaffold expressed in a production optimized Streptomyces coelicolor strain with thirteen scaffold-modifying enzymes from seven biosynthetic gene clusters in different combinations was used to expand glycopeptide antibiotic chemical diversity and enabled us to explore the criteria for in-cell glycopeptide modification. One modification, chlorination, was further explored and was found to be important for antibiotic activity as assessed by binding affinity for the target and also vital to avoid activation of enterococcal resistance through induction of resistance genes. Lastly, a CRISPR technique was developed employing conserved sgRNAs targeting essential biosynthetic genes in two ubiquitous gene clusters in many unique actinomycete strains. Metabolomic analysis of these engineered strains revealed a shift in metabolic flux and enabled the detection of antimicrobial compounds either not detected or produced in very low levels in wildtype strains, including some rare and novel antibiotic variants. This strategy efficiently expands the biosynthetic potential of actinomycete strains producing common antibiotics and is readily applicable to historic strain collections.
Related Events