Awards and recognition
2011 Co-op student of the year – Gurpal Bisra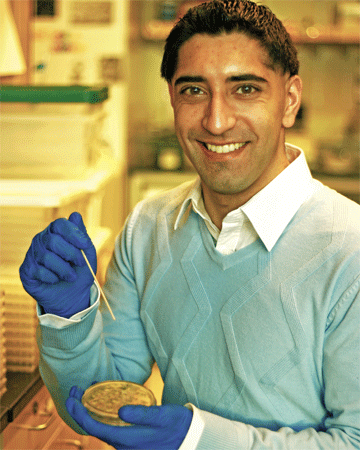 Gurpal's one dream is to have a positive impact on humankind and our planet. His participation in the Science Co-op  program has shown that he is determined to make his dream come true.   In grade 10, he was inspired by his Science teacher who talked about how nanotechnology could be used to cure cancer and other diseases.  He entered the Science Co-op program a few years later, with the goal to study nanotechnology.  This took him to Germany for 8 months, working at the University of Wurzburg.  Despite living in a new culture and having a language barrier, Gurpal had a highly successful work term.  His research with nanotechnology and biology produced "state of the art" results which were published in highly ranked scientific journals.  This experience further propelled him along his path. 
For his next work term, Gurpal decided that the best way to achieve his long term goals was to become more interdisciplinary, feeling strongly that engineers must understand the building blocks of life in order to best tackle the various global crises. So, he decided he wanted to pursue a work term that would give him a strong biology base. In the summer of 2011, he began  working under Dr. Joanne Fox at the Michael Smith Laboratories at UBC and joined the iGEM team.  iGEM is an international research competition where teams of undergraduate students carry out synthetic biology research projects of their own design.   UBC's iGEM team decided to work on combating the pine beetle outbreak by producing trees natural chemical defense mechanism in yeast.  Despite Gurpal's initial lack of a strong biology background, he quickly caught up to speed and was responsible for the design and implementation of the modeling components of the project.  In addition, he was chosen by his peers to represent the UBC iGEM team at competition.  Gurpal led the team to take a gold medal at the iGEM Americas Regionals and also won a special award for Best Model.  At the awards ceremony, the expert judges highlighted Gurpal's work as exemplary and praised Gurpal's mathematical model.   This is the best showing UBC has ever achieved for this competition and it showcased our university on an international platform.   Gurpal describes the work here: http://2011.igem.org/Team:British_Columbia/Model1 .  On top of his summer work term and putting in extra hours working evenings and weekends on the iGEM project, Gurpal also took the time to organize social events for his team, as well as completing two summer courses, all the while maintaining his A average in the extremely intense and challenging engineering physics program. 
Gurpal hasn't slowed down after completing the Co-op program.  He started a company with some fellow students and to help them navigate the business side, he took it upon himself to become the Industry Liason for the Intellectual Property Club at UBC.  Additionally, he has been conducting research with the MiNa Research group (UBC) after getting interested in microfluidics. As a result of a summer research project with Dr. Karen Cheung, he was published as third author in several publications.
On top of this academic successes and work experiences, Gurpal brings a truly global perspective as he has lived abroad and has travelled across 11 countries, meeting people from other cultures firsthand.  He has come to fully realize the value of a diverse and tolerant society and this just further motivates him to work tirelessly to make the world a better place.  Gurpal Bisra has the drive, passion and ability to achieve his dreams of becoming an agent of change in this world.  His next undertaking is to obtain an MD/Ph.D or an M.A.Sc  in biomaterial/biomedical engineering.  No doubt he will continue making positive contributions that will benefit us all. We are very proud to have Gurpal as our 2011 Co-op Student of the Year