Education and outreach
2019 TEDxUBC in review: connecting the UBC community for 10 years
A decade of ideas and a platform for all, the 2019 TEDxUBC conference always holds a special place at UBC and this year was no different.
Maybe it was a coincidence or maybe it happened organically, but this year was the tenth year for TEDxUBC and they came up with ten terrific presenters. Organized by students and hosted by Dave Ng, TEDxUBC generated a kind and inviting environment where mistakes were forgiven and an authentic and creative culture prevailed.
A showcase of UBC's community
The first speaker to the stage and to stand on the iconic red circle of carpet was UBC President, Santa Ono. Santa's speech titled #NominateHer was a call for recognition of female contributions and more opportunities for women and girls. His talk was relevant and powerful, concluding with a roar of audience applause.
After the keynote speech was complete, UBC undergrads, grad students, and postdocs took to the stage.
TEDxUBC speakers and volunteers pose for a group photo (Photo: Sydney Robertson | The UBC Calendar)
The range of topics were as diverse as the speakers themselves with some talks focused on research including how microbes in the gut can affect the brain (Finlay lab's Kylynda C. Bauer; Microbes, Matisse, and the Expanding Universe), the economic landscape of slums (Idaliya Grigoryeva; Moving Up: Can Urban Slums Create Opportunities or Do They Trap Residents in Poverty?), the history of trees and its current state in BC (Ira J. Sutherland; UBC's Biggest, Oldest Secret: The Avatar Forest), the need for smartphones for homeless and vulnerable populations (Neor Tiku; Digital Inclusivity: Is Your Smartphone a Privilege or a Right?), and how sexism and racism is built into the algorithms of a popular search engine (Angelica Poversky; Google Images: Where Racism and Sexism Begins).
While other speakers included a more personal anecdote reflecting on past experiences in their life. These talks included the limited opportunities to education for refugee girls (Tamasha Hussein; Raising Awareness about Refugee Girls' Struggle with Education), the confidence gap (Avril Espinosa-Malpica; The Improbability of Denting the Glass Ceiling Standing Still), the notion of "home" (Retsepile Sello; Home Can Be Anywhere, Everywhere and Nowhere. That's Okay), and a fluid idea for cultural identity (Niloufar Vahid-Massoudi; I'm Not My Culture!).
Each and every talk was unique and provoked much-needed conversation within the UBC community.
However, there needs to be some attention given to the breaks and activities during TEDxUBC. Like a typical conference, breaks and activities offered ways for attendees to interact with one another; but, TEDxUBC had a different set of activities that stay true to the organic feel of TED-like events.
"I've been to a few TED talks now and you know, the most amazing things happen during the breaks," said Dave during the conference.
Using his past experience from other TED conferences, Dave created just enough spark with the audience to garner some really cool and genuine interactions, without providing too much instruction. He encouraged kindness through connections proposing an impromptu musical jam session and a spontaneous showing of 'stupid' talents. And of course, Dave managed to introduce Star Wars into the mix by holding a contest for the best Chewbacca impersonation – a "Dave-signature move", you might say. These small spur-of-the-moment interactions have huge impacts on the overall conference as it contributes to the safe and inviting environment of TEDxUBC.
The typical conference can be stuffy and uptight, but TEDxUBC felt so organic, triggering a certain curiosity to learn more. But, how does the TEDxUBC conference remain so authentic and true to its roots, even after ten years?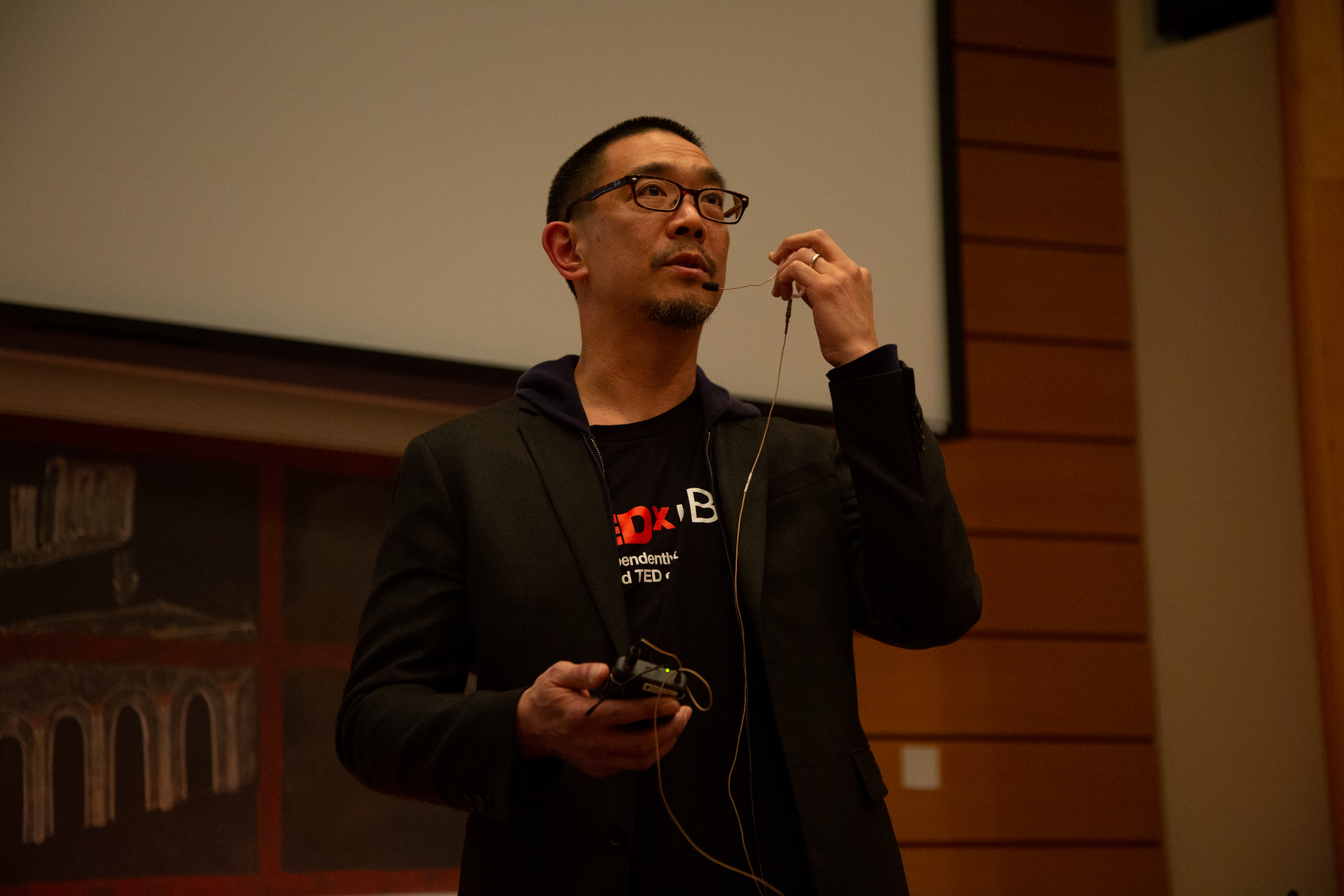 Dave Ng hosting the TEDxUBC talks (Photo: Sydney Robertson | The UBC Calendar)
Well, like all great things, it started with a coffee
Amazing things can happen when arts and science converge, especially when it includes an international security specialist and a molecular geneticist… and some caffeine. Dave Ng, a Science Professor, and Allen Sens, an Arts Professor, teamed up to create a project that pushed students from sciences and arts to focus on interdisciplinary thought. This was the beginning of The Terry Project.
The Terry Project was a cross-faculty program designed to educate members of the UBC community on current global issues. The Project itself included a website, an interdisciplinary course addressing global issues (ASIC 200), a global speaker series, and a student-led conference which is now called TEDxUBC.
The project also led to a documentary radio show broadcasted on CiTR 101.9FM at UBC called The Terry Project. This radio show produced investigative journalism on topics critical to Canada's current social and economic conditions. It eventually went on to become an award-winning, high-production podcast hosted at the Michael Smith Laboratories called Cited.  
Though The Terry Project has now moved on, its legacy continues through the number of student-driven projects such as Cited and TEDxUBC. Cited continues to produce podcasts on topics that are socially-relevant and TEDxUBC is now in its tenth year. These projects have turned into long-lasting initiatives which hold true to the core values of the past venture, The Terry Project.
Why science needs art and art needs science
A common theme of these projects is the importance of integrating the arts and sciences. Bridging the gap between these two unlikely disciplines offer students an alternate perspective and builds the groundwork for critical and innovate thinking. TEDxUBC echoes this message of cross-disciplinary and interdisciplinary discussions as the topics are not limited to just one's research, but also expands to new ideas and personal stories. TEDxUBC sold-out their tenth event, to which hopefully many more are to come.
All photos for this post was provided by Sydney Robertson at the The UBC Calendar. More photos from the event can be found on The UBC Calendar's Facebook page.