Awards and recognition
2021 Gairdner Award Winners: Pictured in the Classroom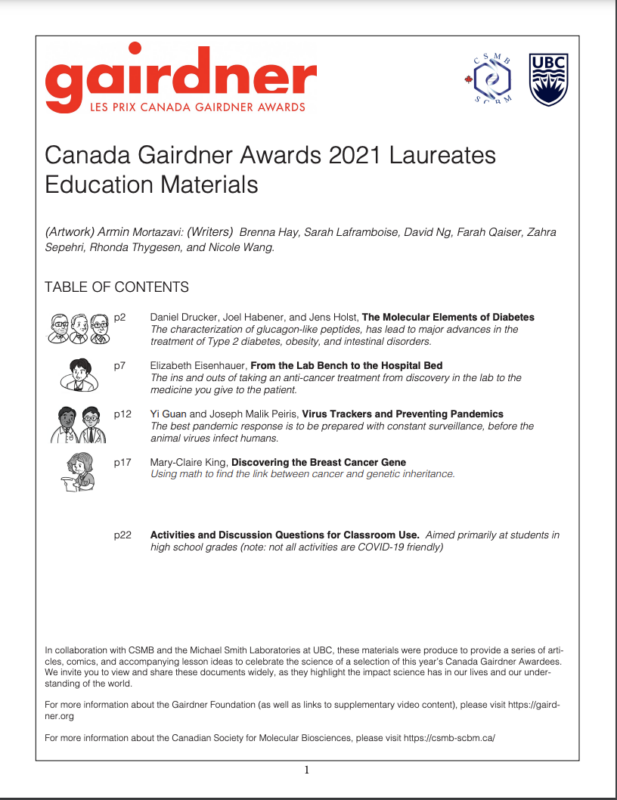 For the third year in a row, the Michael Smith Laboratories has partnered with the Gairdner Foundation and the Canadian Society for Molecular Biosciences (CSMB) to visualize and explain the work of some of the annual Canada Gairdner award winners. These awards aim to recognize excellent international research with important impacts on human health. Each year seven awards are given, and to date 402 awards have been bestowed on laureates from over 40 countries. 96 of those laureates have gone on to receive Nobel Prizes. 
In celebration of the 2021 laureates, the MSL, CSMB and Gairdner Foundation collaborated with illustrator Armin Mortazavi to create a series of animated videos and visual materials explaining the work of these accomplished researchers. 
Explore the links below to view these educational pieces. The global experience of the pandemic over the last couple years has brought science to the forefront of people's minds, now more than ever. It is a critical time for us to support science education and public outreach. Viewers are encouraged to delve into this content and share it widely. 
Many thanks to all the students and faculty who contributed to this amazing project: Brenna Hay, Sarah Laframboise, Dr. David Ng, Farah Qaiser, Dr. Zahra Sepehri, Rhonda Thygesen, and Nicole Wang. 
Illustrations by Armin Mortazavi 
Educational Materials:
Individual Projects:
 

The Molecular Elements of Diabetes  

The characterization of glucagon-like peptides has led to major advances in the treatment of Type 2 diabetes, obesity, and intestinal disorders.  
 
Written by Farah Qaiser  
Art by Armin Mortazavi 

From the Lab Bench to the Hospital Bed 
 
The ins and outs of taking an anti-cancer treatment from discovery in the lab to the medicine you give to the patient. 

Written by Zahra Sepehri and David Ng 
Art by Armin Mortazavi

 

Virus Trackers and Preventing Pandemics 

The best pandemic response is to be prepared, before animal viruses infect humans. 

Written by Nicole Wang 
Art by Armin Mortazavi 

Discovering the Breast Cancer Gene 
 
Using math to find the link between cancer and genetic inheritance. 

Written by Sarah Laframboise 
Art by Armin Mortazavi