Newsroom
CBR Member Feature: Maria-Elizabeth Baeva, B.Sc.
Originally published on The Centre for Blood Research website. Permission was granted by The Centre for Blood Research to republish this article on the Michael Smith Laboratories website. This article highlights Maria-Elizabeth Baeva who is a Master of Science candidate in the laboratory of Dr. Wilfred Jefferies.
By Morgan Alford, Graduate Student, Hancock Lab   
People who change your opinions about life come in all forms. For me, these forms usually entail lab coats and nitrile gloves. One of these PPE-endowed people is a Master of Science candidate in the laboratory of Dr. Wilfred Jeffries named Maria-Elizabeth Baeva. Before I met Maria, I was convinced that all successful graduate students devoted the majority of their time to work at the benchtop. She has since taught me the value associated with being a well-rounded researcher, as she motivates those around her to engage with their studies through volunteerism. Maria attributes much of her academic and extra-curricular success to her parents, who are immigrants from Russia, and instilled in her many qualities of leadership that contribute to her tenacity as an emerging figure in her field. Maria was delighted to sit down for an interview about her experience as a student member of the CBR.
What inspired you to pursue graduate studies at UBC?
Probably the Stockholm Syndrome (just kidding!) Actually, I did my undergrad at UBC and I loved the atmosphere and academic environment. This is a place that strikes the right balance between inspiring great research and also having a vibrant social life. I love that I can sit in a lecture and be awestruck by someone's amazing research in the morning and then go to a bunch of different breweries or shows just off campus that same evening.
What is the goal of your current research project?
The goal of my research project is to figure out a better way to detect Alzheimer's. So far, researchers have failed to discover an effective treatment for Alzheimer's because we haven't characterized biomarkers that are associated with early cognitive decline, only those associated with advanced neurodegeneration. To address this knowledge gap, I'm trying to "see" if the eyes can be a good "window" into what's going on in the brain. I'm using mouse models of Alzheimer's to connect diseased brain pathology with eye pathology, in order to advance diagnostics and promote early intervention.
What is the most rewarding role you serve in the community?
I work as a disability coordinator for the Fraser Health Multiple Sclerosis (MS) Clinic. Patients often have to go on disability when they are diagnosed with this disease. This requires doctors to fill out lengthy medical reports and write letters to government agencies, employers, insurance companies, banks, schools and others to explain the disease and why/how the patient's functioning is affected. I get to assist with this process to reduce the workload of medical professionals! My role helps the clinic to keep this service free of charge for patients. Since these patients are under financial pressure, it's rewarding to be able to help in this way.
What advice would you have for undergraduate researchers?
I have two pieces of advice: 1) carve your niche, and 2) network! To the first point, if you have an idea, say for a project or an event, or a personal goal that you want to achieve; then you have to be the one to make it happen. People who can help you will recognize if you are driven, motivated and take active steps to pursue your goal. Secondly, I would argue that learning how to network is even more important than learning hard research skills. Many of the opportunities that I have benefitted from have presented through networking, and not necessarily in "traditional" networking areas. For example, my volunteerism at the Vancouver Aquarium led me to forge great academic connections.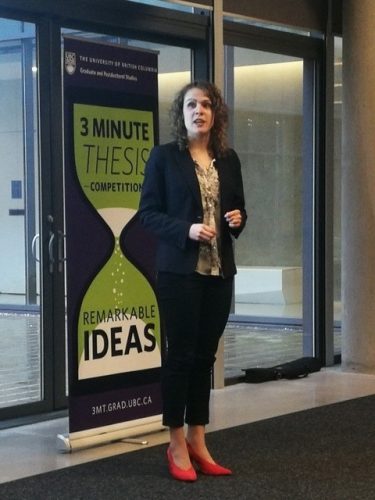 What are your professional aspirations?
When my parents ask, I like to keep it simple and say I want to become a doctor. But, more specifically, I'm really keen to pursue the MD/PhD program. I can't think of a better way to marry my two passions: people and research. I love the idea of directly helping people but also contributing to science and the advancement of knowledge. I have had quite a few people tell me "you can't be a clinician and a researcher" and, because I'm a bit of a contrarian, I'm determined to prove them wrong.
What are you most proud of in terms of your Russian heritage?
There are two things I appreciate and adore about Ruskies: their respect and deference to education, and their resourcefulness. Generally, Russians are big into being well-educated; they want to know a little bit about everything. It keeps them well-rounded and makes it really fun to talk to them because they have an opinion about everything. I have a hypothesis that they are particularly resourceful because the public systems that are meant to help and support them are inadequate. So, they've become really creative in their approach to gaining the things they need outside of government. Great examples of these resourceful types are 20th century Soviet icons like Vysotsky, Dovaltov and Chagall.
What is your favourite "wild-type" (AKA non-academic) person activity?
I love the arts. I know it's a bit sacrilegious to not say hiking when living in Vancouver, but I'm honestly truly happy when I'm appreciating the arts. I frequent events like the Vancouver Film Festival and can be found listening to opera at the Queen Elizabeth Theater, window-shopping along Robson street, browsing the works at the Vancouver Art Gallery or watching drag somewhere on Davie street. There's something powerful about all these unique forms of expression and each definitely influences my personal and professional life.
If you could only use one size of pipette for the rest of your life, which size would it be and why?
P20. Eyeballing the difference between 200 and 20 µL is way easier than the difference between 20 and 10 µL. Test this hypothesis for yourself if you don't believe me!