Awards and recognition
Celebrating Prof. Jim Kronstad's tenure as the MSL Director (2008-2017)
Reported by Sascha Alles, postdoctoral fellow in the Snutch Lab, Michael Smith Laboratories
Prof. Jim Kronstad was honoured on Thursday May 4th in a celebration commemorating his 9 years as the MSL Director. In the words of his predecessor, Prof. Phil Hieter, the event was for a man "with a lot of honour and integrity". These heartfelt sentiments resonated throughout the afternoon as Prof. Kronstad received praise for his creativity, wisdom, strength, hard-working nature and leadership as Director of the MSL. Each of these were reflected in the presentation of a traditional First Nation talking stick, carved by artist Jim Yelton of the Coastal Salish Nation. The talking stick bared four figures; the raven, bear, killer whale and wolf. 
Prof. Kronstad has been prolific in his work, as recognized by Simon Peacock, the Dean of Science, for having "helped to double department's size by combining forces with the Centre for High-throughput Biology (CHiBi) and hiring several new faculty including Drs. Nobuhiko Tokuriki, Harry Brumer, Joanne Fox, Christian Kastrup, Martin Hirst and Cara Haney".  In Prof. Kronstad's own words "these activities have revitalized the atmosphere of the MSL". 
The former Head of Botany at the MSL, Prof. Lacey Samuels provided an entertaining analogy of Prof. Kronstad's directorship to his work on fungal biology, at one point comparing the "absorption of nutrients by pathogens" to his ability to "absorb grant money to do new research". She went on to draw clever parallels between Prof. Kronstad's research on signaling molecules and rhizomorphs to his success in keeping the information moving and his dedicated hard work behind the scenes.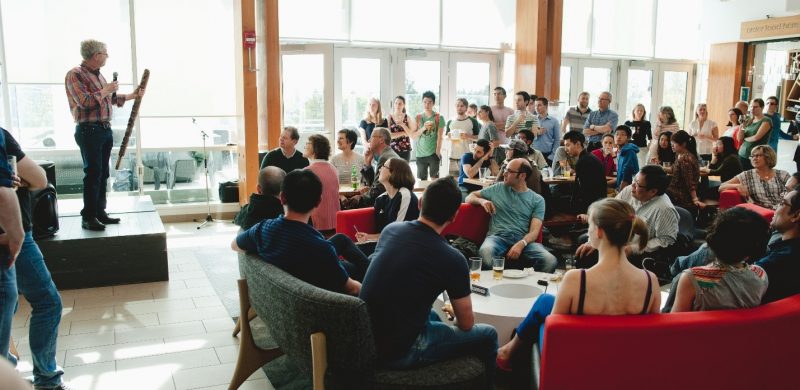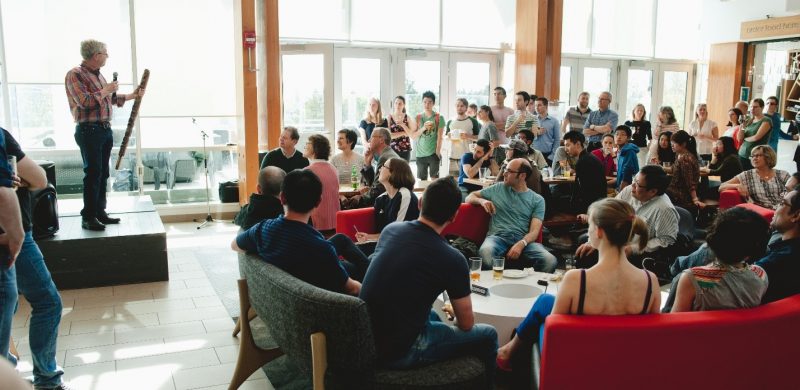 Prof. Phil Hieter preparing to present a traditional First Nation talking stick
Former MSL Director and Prof. Emeritus Doug Kilburn remarked that a celebration should be a mix of 'toast and roast', but that he "failed miserably to find anything Jim did wrong". Prof. Kilburn described Prof. Kronstad's integral role in obtaining a new building for the MSL through the writing of a successful proposal for the CFI. This was followed by warm sentiments heard from Prof. Emeritus Brian Ellis, also a former MSL Director, for always looking after everyone with emphasis on Prof. Kronstad's leadership. Prof. Harry Brumer also took the stage, representing the faculty member hires during Prof Kronstad's term, and offered gratitude for recruiting him and appreciation for his guidance and feedback on grant proposal applications.
Prof. Kronstad wrapped up the event by thanking all those who attended, thanking his wife, his students, staff and the faculty of MSL. Prof. Kronstad remarked that "serving as the Director of the MSL has been a challenging but thoroughly enjoyable experience". He is ready to "pass the torch" to Prof. Peter Zandstra as Director of the MSL. Prof. Kronstad says he is "looking forward to focusing on [his] research program and continuing to contribute to the MSL community".

The Kronstad Lab studies fungal biology including pathogenesis, morphogenesis and recognition events that occur during mating and upon infection of the host. His work has important implications for biomedical research in understanding fungal diseases that affect immunocompromised individuals and in the agricultural industry for diseases affecting crops such as maize and barley.