Awards and recognition
Cited Podcast wins top journalism award
Written by James McCoy, Postdoctoral Fellow in the Finlay lab, Michael Smith Laboratories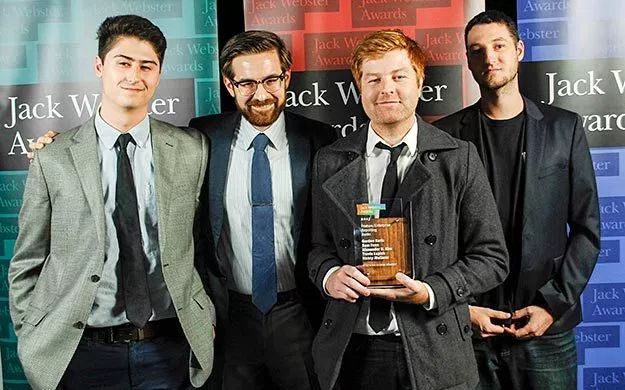 In two small offices of the Michael Smith Laboratories, among the controlled chaos of labs and data, a small team of industrious journalists record a radio show and podcast called Cited. Last month, their hard work was rewarded with one of British Columbia's most prestigious awards for journalism: The Jack Webster Award in Feature and Enterprise Reporting, for their episode The Heroin Clinic.
Cited originally rose out of The UBC Terry Project. Founded by Dr. Dave Ng, science educator and director of the Advanced Molecular Biology Laboratory at the MSL, and Dr. Allen Sens, a professor in UBC's Political Science department, The Terry Project brought together both science and humanities training to help UBC students tackle global challenges with diverse tools and techniques.
Cited's executive producers and co-hosts Sam Fenn and Gordon Katic took this idea of diverse people solving problems together, and ran with it. At its core, Cited is about discoveries. It investigates how academics are compelled to leave their ivory towers and interact directly with communities, governments, and media, in order to turn knowledge into action. Sam and Gordon's stories combine scholarship across huge areas of expertise, with original investigative journalism. Regularly playing on CBC radio shows like The Doc Project, Cited had already won 3 national awards for campus and community radio before their latest recognition.
Scientists are in the knowledge-production business. They go into the lab or into the field, perform their experiments, then publish their findings in highly specialised journals. However, if there is one consistent lesson to be learned from listening to Cited, it is that changing the world is not as easy as having new data with a great p-value. "We could chart the Titanic sinking while we drown" Sam says "but it wouldn't do much good!"
The Heroin Clinic captures this tension through the lens of the epidemic of heroin addiction gripping Vancouver's downtown eastside. In 2005, a controversial solution to this public health crisis was proposed: heroin users could be treated by giving access to free, safe heroin. As bold as this seemed, a trial was initiated, and addicts from the local area were recruited. 3 years later the results showed that this approach had real promise. However, the researchers overseeing the trial only collected their data and presented it to provincial and federal governments, and did not go beyond that to advocate for its importance. Predictably, governments baulked at the challenge of selling voters on a policy of giving drug addicts more drugs, and when the staid researchers refused to push back, the program fell apart. The story that follows in The Heroin Clinic is one of relapses and deaths, downtown eastside communities educating themselves on international human rights conventions, and academics learning to raise their voices. "It should be obvious to scholars that simply doing good work, and disseminating it, is not the answer to effecting change in the way people think and what governments fund," says Gordon. Sam agrees "the moral of the story is that smart people are limited in what they can do alone". But joining together with communities and interest groups can transform scientists' data into real-world relevance.
Fortunately, Sam and Gordon credit Canadians with being open to academics' opinions. People are increasingly looking for real solutions to old problems. "Actually, these days scientists are some of the most front-facing public intellectuals," says Gordon. Sam continues "but be concerned about meaningless praise of science by governments which doesn't follow through". Scientists' voices need to be a part of the conversation in any democracy. This is why Sam and Gordon see investigative media like Cited as so important, because they provide a way for academics to use narratives that include and inform people, so that their hard earned p-values can make an impact on the world.