Newsroom
Dr. Leonard Foster receives 2022 Distinguished Service Award from Youth Science Canada
In Grade 4, the future Dr. Leonard Foster was testing Coleus cuttings in different water extracts to see which might be the best rooting compound.
His parents, both teachers in the small interior community of McBride, BC, had a commercial greenhouse selling bedding plants as a side business, so propagation was a natural subject for his first outing at the school science fair.
"I remember making this kind of broth out of boiling willow shoots, and then using that," he says the day after receiving a 2022 Distinguished Service Award from Youth Science Canada, in recognition of long and dedicated service to Regional Science Fairs (now STEM) in BC, as well as Canada-wide Science Fairs. Foster was one of seven people recognized by the organization.
"That was the first year it was run, and it kept going. If you won at the school level, you would go on to the regional level, which was held in Prince George each year. I think won like a $10 gift certificate for Coles Books that first year. I thought that was pretty cool."
That first science fair at age 9 became a 40-year engagement. Foster's involvement as a participant continued right through grade 12. His three siblings carried on the tradition, meaning that one member of the Foster household went to the National Fair for about 12 years running, or so. Leonard began judging as an undergraduate at SFU. A short break doing a postdoctoral fellowship in Denmark was followed by setting up shop at UBC and a call going out looking for judges. "It was 2005, and I think there was a national fair at UBC that year," he says.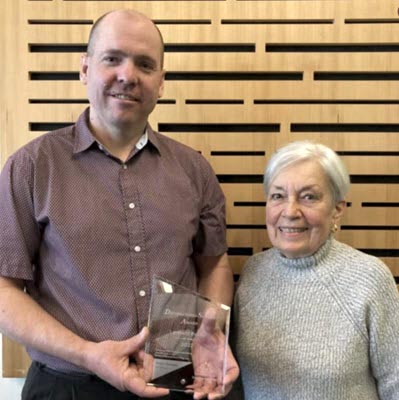 He got involved with the organizing committee for Vancouver regionals that year, as the only faculty member from any of the local universities. "The Chief Judge was wanting to step down around that time, so I eased into that role over a couple years."
Fourteen years on, he says the role involves less judging than one might think. "The primary role is recruiting other judges, organizing them into teams, and assigning which projects they're going to assess, as well as mentoring judges on how to judge, and synthesizing all of the results to come up with the overall list of winning projects for that year. Then, on top that, there's also mentoring the students – at least a few of the projects each year."
Asked why science fairs are important to support, Foster says that the exposure they brought to research, networking, and eventually making a key connection that saw him running experiments for his project in a lab at SFU, set him on a path. "That was a different level of exposure to research, compared to what I could do at home or in my school science lab," he says. "That experience really framed for my what a research career could look like.
"When you talk to a lot of faculty members," adds Foster, "the same kind of thing comes out."
UBC's Faculty of Science is an outstanding sponsor of the regional fairs, and maintains a presence at the awards ceremonies. Last night, Dr. Mark McLaughlin, named Canada's Top Young Chemist in 2014, did the honours. "He had a similar kind of story," says Foster.
"He remembers seeing a project in grade five that opened his eyes to science, and he said something to the effect that science fairs were in no small part responsible for where he is today. I've had innumerable experiences like that. It exposes people at a very young age to the principles of research, how interesting it can be, just satisfying your curiosity, and the kind of reward that can bring. They don't all go on in science, but hopefully, they all come away with a concept of what it means to critically evaluate data and ask questions about the world around us."
Interested in getting involved? Each year, Dr. Foster reaches out to the grad student and postdoctoral associations. Faculty are also welcome to get in touch.
This article was originally posted by the UBC Life Sciences Institute