2023 Michael Smith Distinguished Lecture – Dr. Karen Miga
April 14 @ 3:00 pm

-

4:00 pm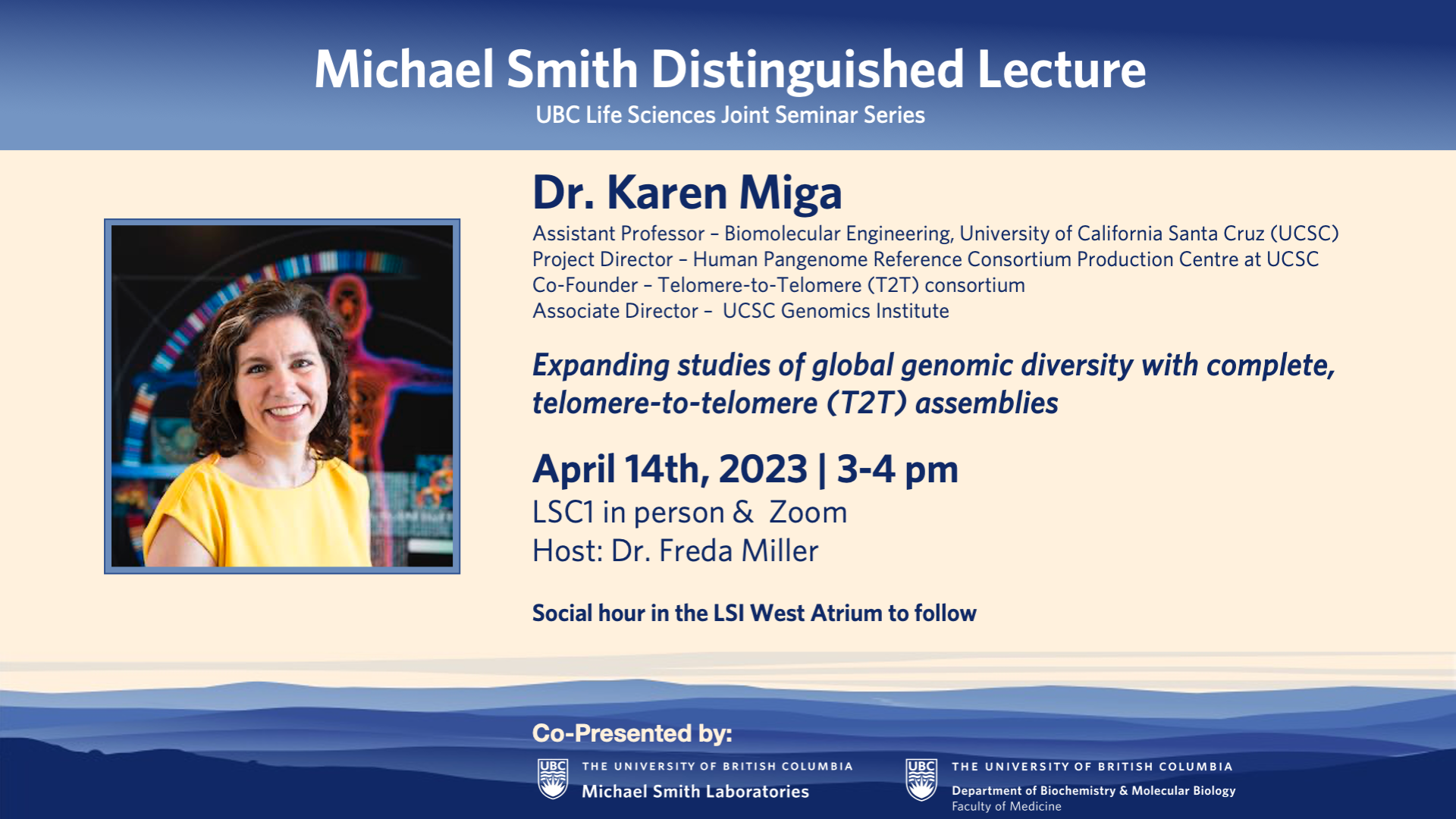 The annual Michael Smith Distinguished Lecture is organized in partnership with the Department of Biochemistry and Molecular Biology and the Michael Smith Laboratories. This event honours Nobel Laureate Dr. Michael Smith, whose academic career was deeply rooted at UBC and where his legacy continues to inspires young generations of scientists. The first Michael Smith Distinguished Lecture was held in 2005. Since then, many prestigious researchers have been invited to UBC to share their research with eager students, faculty, and staff. 
Speaker: Dr. Karen Miga
Assistant Professor – Biomolecular Engineering, University of California Santa Cruz (UCSC)
Project Director – Human Pangenome Reference Consortium (HPRC) Production Centre at UCSC
Co-Founder – Telomere-to-Telomere (T2T) consortium
Associate Director –  UCSC Genomics Institute

Dr. Miga's research program combines innovative computational and experimental approaches to produce the high-resolution sequence maps of human centromeric and pericentromeric DNAs. The Miga lab aims to uncover a new source of genetic and epigenetic variation in the human population, which is useful to investigate novel associations between genotype and phenotype of inherited traits and disease.
Talk Title: Expanding studies of global genomic diversity with complete, telomere-to-telomere (T2T) assemblies
Abstract:
The human reference genome is the most widely used resource in human genetics and is due for a major update. Its current structure is a linear composite of merged haplotypes from more than 20 people, with a single individual comprising most of the sequence. It contains biases and errors within a framework that does not represent global human genomic variation. A high-quality reference with global representation of common variants, including single-nucleotide variants, structural variants and functional elements, is needed. The Human Pangenome Reference Consortium aims to create a more sophisticated and complete human reference genome with a graph-based, telomere-to-telomere representation of global genomic diversity. Here we leverage innovations in technology, study design and global partnerships with the goal of constructing the highest-possible quality human pangenome reference. Our goal is to improve data representation and streamline analyses to enable routine assembly of complete diploid genomes. With attention to ethical frameworks, the human pangenome reference will contain a more accurate and diverse representation of global genomic variation, improve gene–disease association studies across populations, expand the scope of genomics research to the most repetitive and polymorphic regions of the genome, and serve as the ultimate genetic resource for future biomedical research and precision medicine.

This seminar will be presented in a hybrid format. The in person talk will be hosted at the UBC Life Sciences Centre (LSC 1001). Audience members are welcome to attend either in person or via the zoom link. Those connecting via zoom will be able to ask questions during the Q&A portion using the chat function.
Zoom registration link: https://ubc.zoom.us/meeting/register/u5EsdeyqrDotHdbElpjEqEorncb6smcx3EjD
Hosted by: Dr. Freda Miller
Co-presented by: The Michael Smith Laboratories and the Department of Biochemistry and Molecular Biology 
Related Events