MSL Invited Talk – Dr. Karen Miga
April 14 @ 11:00 am

-

12:00 pm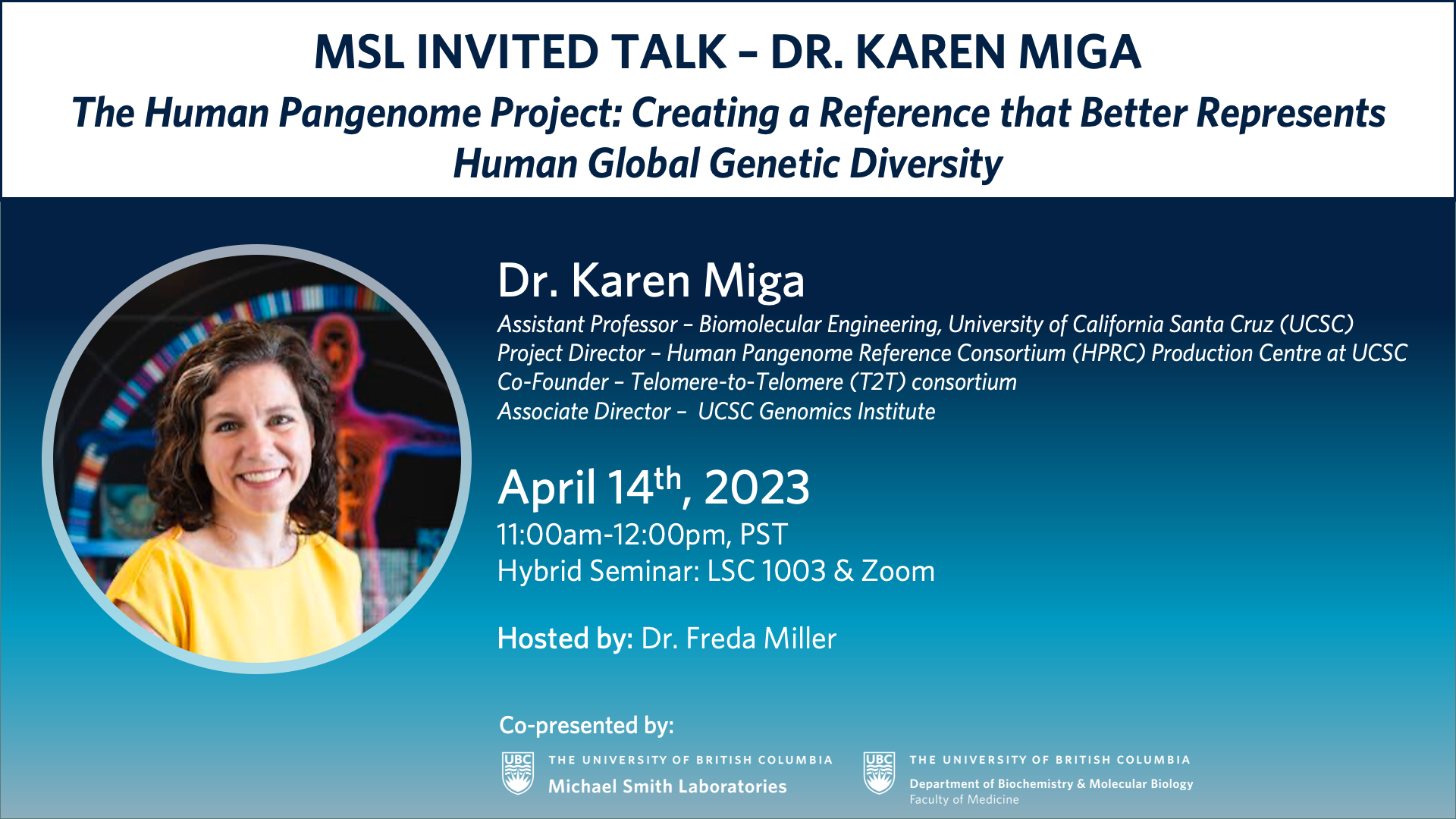 Speaker: Dr. Karen Miga
Assistant Professor – Biomolecular Engineering, University of California Santa Cruz (UCSC)
Associate Director –  UCSC Genomics Institute
Co-Founder – Telomere-to-Telomere (T2T) consortium
Project Director – Human Pangenome Reference Consortium (HPRC) Production Centre at UCSC
Dr. Miga is offering this talk in addition to the Michael Smith Distinguished Lecture that will follow later in the day. Click here for more information on the Michael Smith Distinguished Lecture.
Talk Title: The Human Pangenome Project: Creating a Reference that Better Represents Human Global Genetic Diversity
Abstract:
The reference human genome sequence is inarguably the most important and widely used resource in the fields of human genetics and genomics. It has transformed the conduct of biomedical sciences and brought invaluable benefits to the understanding and improvement of human health. However, the commonly used reference sequence has profound limitations, because across much of its span, it represents the sequence of just one human haplotype. This single, monoploid reference structure presents a critical barrier to representing the broad genomic diversity in the human population. In this review, we discuss the modernization of the reference human genome sequence to a more complete reference of human genomic diversity, known as a human pangenome. Global genomic diversity initiatives carry enormous potential for advancing scientific discovery in biomedical and basic research. However, these studies are positioned at the crossroads of genetics and society and demand careful policy and ethical oversight to ensure community engagement and respect. Future global and domestic participant recruitment must be keenly aware of controversies that have accompanied past efforts and strive to avoid those unfortunate precedents while building on promising frameworks for collaboration that respect the rights and interests of those who contribute samples.
This seminar will be presented in a hybrid format. The in person talk will be hosted at the UBC Life Sciences Centre (LSC 1003). Audience members are welcome to attend either in person or via the zoom link. Those connecting via zoom will be able to ask questions during the Q&A portion using the chat function.
Zoom registration link: https://ubc.zoom.us/meeting/register/u50kcOusrjovHNYtrtTOsJzeKHVbECRw9sQs
Hosted by: Dr. Freda Miller
Co-presented by The Michael Smith Laboratories and the Department of Biochemistry and Molecular Biology