Department of Chemistry and CBR Seminar: Dr. Muhammad Yousaf
January 17, 2019 @ 2:00 pm

-

3:00 pm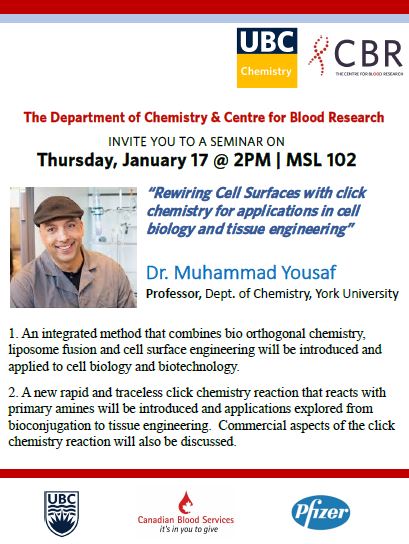 The Department of Chemistry and Centre for Blood Research presents a Seminar:
Dr. Muhammad Yousaf
Professor, Department of Chemistry,
York University
Date: Thursday, January 17, 2019
Time: 2:00pm
Location: MSL 102
Title: Rewiring Cell Surfaces with click chemistry for applications in cell biology and tissue engineering
Abstract: 1. An integrated method that combines bio orthogonal chemistry, liposome fusion and cell surface engineering will be introduced and applied to cell biology and biotechnology.
2. A new rapid and traceless click chemistry reaction that reacts with primary amines will be introduced and applications explored from bioconjugationto tissue engineering.Commercial aspects of the click chemistry reaction will also be discussed.
Sponsored by: UBC, Canadian Blood Services, and Pfizer
Related Events