Faculty of Pharmaceutical Sciences Seminar: Dr. Gursel Alici
January 8, 2020 @ 12:00 pm

-

1:00 pm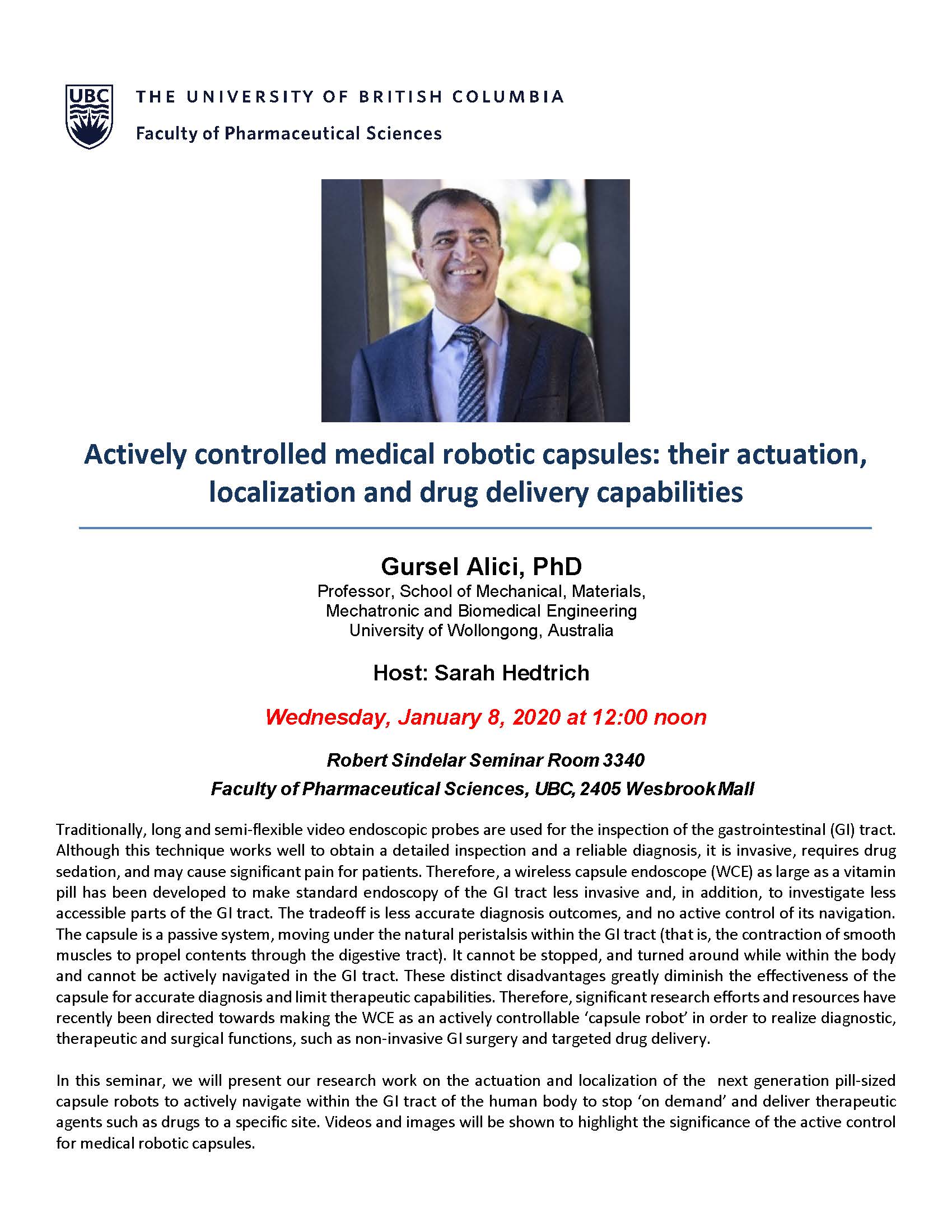 The Faculty of Pharmaceutical Sciences presents a seminar:
Gursel Alici, PhD
Professor
School of Mechanical, Materials, Mechatronic and Biomedical Engineering
University of Wollongong, Australia
Date: Wednesday, January 8, 2020
Time: 12:00 PM 
Location: Robert Sindelar Seminar Room 3340, Faculty of Pharmaceutical Sciences Building (2405 Wesbrook Mall)
Title: Actively controlled medical robotic capsules: their actuation, localization and drug delivery capabilities
Abstract: Traditionally, long and semi-flexible video endoscopic probes are used for the inspection of the gastrointestinal (GI) tract. Although this technique works well to obtain a detailed inspection and a reliable diagnosis, it is invasive, requires drug sedation, and may cause significant pain for patients. Therefore, a wireless capsule endoscope (WCE) as large as a vitamin pill has been developed to make standard endoscopy of the GI tract less invasive and, in addition, to investigate less accessible parts of the GI tract. The tradeoff is less accurate diagnosis outcomes, and no active control of its navigation. The capsule is a passive system, moving under the natural peristalsis within the GI tract (that is, the contraction of smooth muscles to propel contents through the digestive tract). It cannot be stopped, and turned around while within the body and cannot be actively navigated in the GI tract. These distinct disadvantages greatly diminish the effectiveness of the capsule for accurate diagnosis and limit therapeutic capabilities. Therefore, significant research efforts and resources have recently been directed towards making the WCE as an actively controllable 'capsule robot' in order to realize diagnostic, therapeutic and surgical functions, such as non-invasive GI surgery and targeted drug delivery.
In this seminar, we will present our research work on the actuation and localization of the next generation pill-sized capsule robots to actively navigate within the GI tract of the human body to stop 'on demand' and deliver therapeutic agents such as drugs to a specific site. Videos and images will be shown to highlight the significance of the active control for medical robotic capsules.