Medical Genetics Faculty Recruitment Candidate Seminar: Dr. Adi Steif
January 7, 2020 @ 10:30 am

-

11:30 am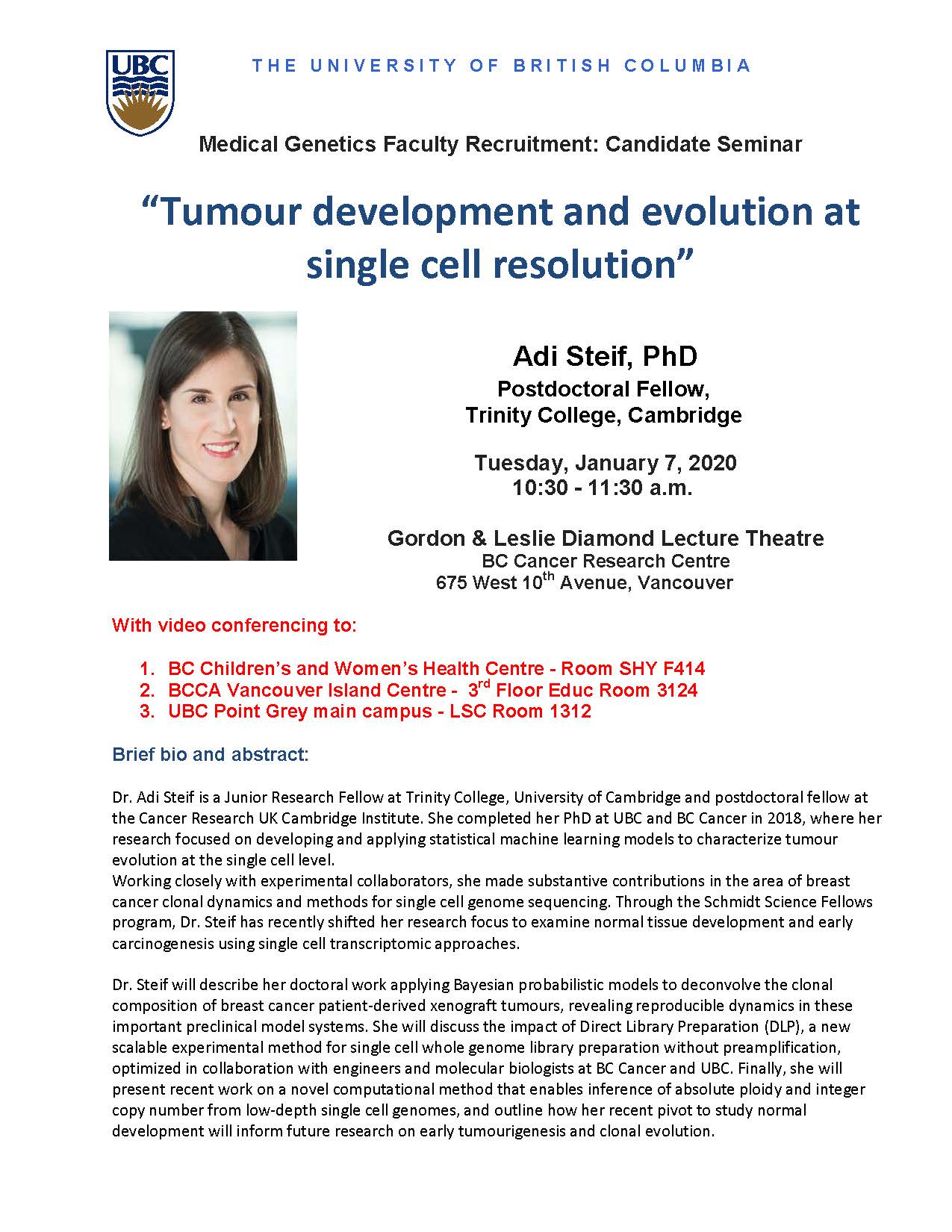 The Department of Medical Genetics presents a candidate seminar:
Adi Steif, PhD
Postdoctoral Fellow
Trinity College, Cambridge
Date: Tuesday, January 7, 2020
Time: 10:30 AM – 11:30 AM 
Location: Gordon & Leslie Diamond Lecture Theatre, BC Cancer Research Centre, 675 West 10th Avenue
With video conferencing to:

BC Children's and Women's Health Centre – Room SHY F414
BCCA Vancouver Island Centre – 3rd floor Educ Room 3124
UBC Point Grey Main Campus – LSC Room 1312 
Brief Bio and Abstract:
Dr. Adi Steif is a Junior Research Fellow at Trinity College, University of Cambridge and postdoctoral fellow at the Cancer Research UK Cambridge Institute. She completed her PhD at UBC and BC Cancer in 2018, where her research focused on developing and applying statistical machine learning models to characterize tumour evolution at the single cell level.
Working closely with experimental collaborators, she made substantive contributions in the area of breast cancer clonal dynamics and methods for single cell genome sequencing. Through the Schmidt Science Fellows program, Dr. Steif has recently shifted her research focus to examine normal tissue development and early carcinogenesis using single cell transcriptomic approaches.
Dr. Steif will describe her doctoral work applying Bayesian probabilistic models to deconvolve the clonal composition of breast cancer patient-derived xenograft tumours, revealing reproducible dynamics in these important preclinical model systems. She will discuss the impact of Direct Library Preparation (DLP), a new scalable experimental method for single cell whole genome library preparation without preamplification, optimized in collaboration with engineers and molecular biologists at BC Cancer and UBC. Finally, she will present recent work on a novel computational method that enables inference of absolute ploidy and integer copy number from low-depth single cell genomes, and outline how her recent pivot to study normal development will inform future research on early tumourigenesis and clonal evolution.
Related Events