Awards and recognition
Life in the Li Lab – MSL Graduate Student Award Recipient Shari Liu
Shari Liu (Xueru Liu) was awarded the Michael Smith Laboratories Graduate Student Award in September 2020. Originally from Chonqing, China, Shari's relocation to Vancouver, BC during the global pandemic was a big adjustment, but an exciting transition nonetheless. She looks forward to continuing work at Dr. Xin Li's lab at UBC's Michael Smith Laboratories (MSL).  
While studying Bioscience previously at Chonqing University, a tutor suggested she apply for the MITACS summer internship at Dr. Li's lab. Her acceptance into the program brought her to the MSL for a period of 3 months in the summer of 2019, where she worked with Dr. Li and her lab researching plant immunity. Attracted by the lush green lab environment, collegial atmosphere and the seemingly magic genetic tools being utilized to solve biological problems, Shari was eager to return to Dr. Li's lab after the internship. Fascinated to learn more about the ways in which plants interact with pathogens and researching ways to strengthen their immune systems, Shari applied as a graduate student to Dr. Li's lab and began her studies as a full-time student in September 2020.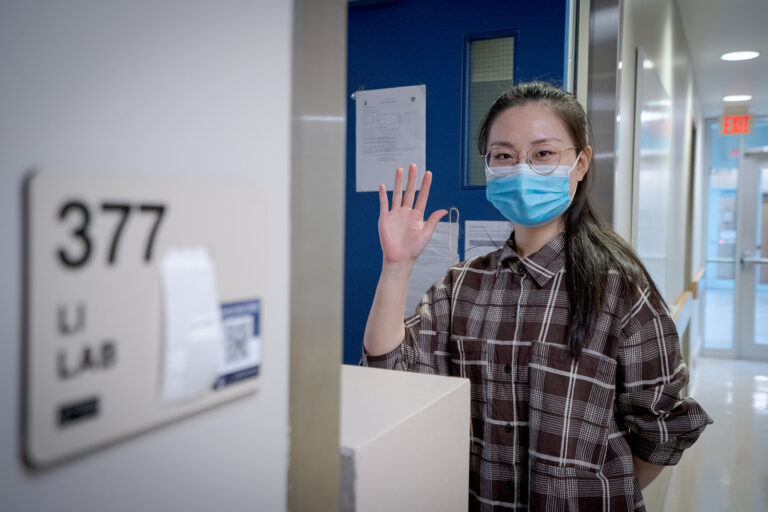 We recently caught up with Shari to see how her research is coming along at the Li Lab, hear how she has settled into life in Vancouver and to learn about her future plans. Curious about the life of a graduate student at the MSL? Read on!
What is it about plant immunity that interests you?
"My current goal is to use the genetic tools to study plant immunity signalling pathways, such as how they are regulated by the pathogen infection. This can be meaningful because it is critical to develop safer and more sustainable strategies to control plant diseases instead of using pesticides and chemicals."
Have you always been interested in 
plants?
"During my childhood I grew up near my grandparents' farmland. They grew many crops, like cotton, Chinese jujube. I watched them planting the seeds, watering and fertilizing the plants. I sometimes did the farm work together with them. Of course, the most exciting thing was to harvest the cotton and jujube in the autumn."
Tell us more about the plants in your lab
?
"Our lab focuses on Arabidopsis, it's a model plant. We study it because it has a shorter life cycle than other crop plants like potato, tomato etc. The genome of this plant is also small and it can be easily manipulated. It shares many genes with other crops as well, so if we know how the immunity related genes work in Arabidopsis, we may be able to utilize them for breeding resistant crops.All these factors make it a good model plant for research."
What potential impact could your research have?
"My research focus is to figure out how plants interact with pathogens, specifically bacteria and fungi.With a better understanding of the molecular mechanisms behind plant immunity, we can take the research from this project and apply it to other crops, such as generating the disease resistant crops by engineering the components of plant immunity system.
The application of this research could have a long-lasting impact. Although the current most widely used method to protect plants from pathogens is through chemical control, it has negative impacts on human health and the environment due to chemical toxicity and induction of resistance in the pathogens. Another possible way of creating protection is to create genetically modified crops, strengthening them against the pathogens. However, this requires the thorough understanding of the defences plants might use and their roles inside the plant immunity system. Although the framework of the plant immunity system has been primarily established, there are still a lot of unknown points waiting to be elucidated. To provide well-founded insights for agriculture, basic research is necessary and essential." 
What makes basic research so essential?
"You've heard the saying, "We are standing on the shoulder of giants". We need to accumulate enough knowledge so that we can have better understanding of these systems for the field as a whole. In this area of study there are often updated findings and research, our understanding is always changing. The most direct way to keep on top of this information is to read the literature being published. Reading about other research projects can provide us with insights within our own projects."  
What's the most surprising thing you've come across in your 
experience at the MSL so far
?
"The most surprising thing is the support of and collaboration with my peers. I feel very thankful to work with so many intelligent and motivated people. I'm learning a lot from them, they offer up new ideas, help me when I'm stuck. Collaborating with them gives me confidence that I can overcome any problems I might encounter.  
My supervisor Dr. Xin Li is excellent. She is extremely knowledgeable in the field of plant immunity and offers good suggestions to the trainees in her lab. She really welcomes questions and makes you feel comfortable discussing ideas and research challenges with her. Our lab feels like one big family. Everyone is so friendly. I can talk freely and share my thoughts easily. It's a very comfortable learning environment where I can focus on my studies."
You're just at the beginning of your journey, how long do you expect to be at the MSL as a researcher?
I'm a Masters student right now, but I think I'll prefer to continue my studies here in the future. I'll have to try my best and work very hard and hopefully continue to work on this project in Dr. Li's lab further. 
What do you 
find the
 biggest challenge to be at
 studying at
 the MSL?
"There are lots of things to learn. I need to learn every detail of the experiment because ignoring a small detail can lead to poor results. I am also learning how to carefully evaluate each step, how to analyze the results in order to decide what to do next. It's important to develop the ability to think and troubleshoot independently. To do this well requires a lot of knowledge and experience I hope to gain here at the MSL." 
What are your interests outside of your studies in the lab? 
"I like cooking. I'm not accustomed to the local food here yet, so I enjoy cooking Chinese food as it reminds me of home. In China I wasn't really into cooking because I used to go out to many restaurants. When I arrived here, I sort of learned to cook from scratch. My favourite dish to cook is a spicy food similar to hot pot. It is easy to cook, just different kinds of vegetables, meat and one pot with spicy broth. Sharing it together with friends is so much fun and enjoyable." 
How has it felt to move to Canada from
 China
 during th
is
 global pandemic?
"I feel very safe here at UBC. Everyone wears masks here and tries to keep social distance. But during this pandemic it makes it difficult to meet my peers, at least in person. I look forward to having more communication and social connections with my fellow students in the future. And maybe even sharing some hot pot one day."  
What career path do you see your studies taking you down?
"For now, I'm not sure, I wonder what I will do in the future. I need to put a lot of effort into my research to better understand my opportunities." 

What advice would you give to other students looking to apply to botany labs at the MSL?
"I think I would advise them to go check out a research lab as early as they can, since the quality and type of knowledge studied in class is quite different than real experiments conducted in the laboratory environment. Seeing what the lab researchers are doing every day will give students a more specific idea of what, and how they will be applying their learning. It can be helpful to see the science at work in real life."