Newsroom
SBME Student Profile Series: What is a Biomedical Engineer?
Originally written by the School of Biomedical Engineering
Laura Stankiewicz is a UBC SBME PhD student hailing from Burlington, Ontario and she is kicking off our SBME Student Profile Series. Giving us some of her rare down time, Laura answered our questions about Biomedical Engineering, what brought her to the program, how she spends her time at UBC, and why BME is such an exciting field. Learn all about Laura below.
What's your current research focus?
For my PhD research project I'm studying T-cell development in the human thymus. More generally, I'm interested in understanding how our immune system learns which cells in our body are our own healthy cells, and which are sick or invaders. My thesis focuses on learning how immune cells are trained during their development, and how we can use what we learn to make immune cells in the lab that can be engineered to kill cancer cells.
What was your path to Biomedical Engineering and what inspired you to pursue it?
Before coming to UBC to start my PhD, I completed a BASc in Chemical Engineering at Queen's University. I loved my time at Queen's and I pursued engineering as my undergrad because I value the focus on problem solving and the application of technical knowledge.
I've always been fascinated by the complexity of the human body and I spent a lot of time during my undergrad studying with my friends in biology – it was a fun escape from differential equations! For my undergraduate thesis I worked in a molecular biology lab which gave me hands-on experience in a wet lab environment. This is where I fell in love with research. I loved the environment of the lab and the process of research – to find a question no one knows the answer to then brainstorm ideas on how to look for those answers, read A LOT, work with your hands, and have thought-provoking conversations about the future of science every day? I was hooked. I started looking for a way to apply my technical, systems-modelling engineering background to cell biology and biomedical engineering just made sense.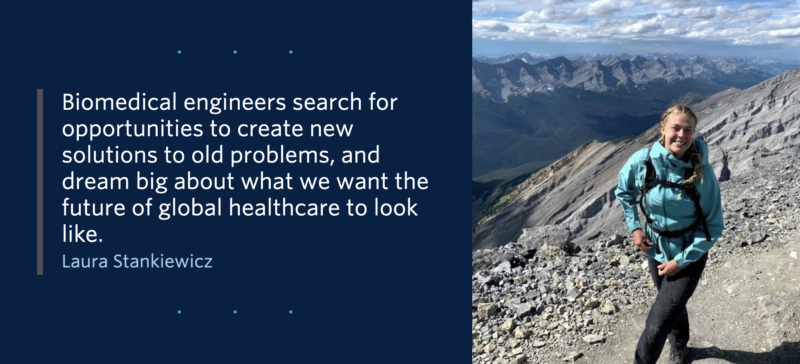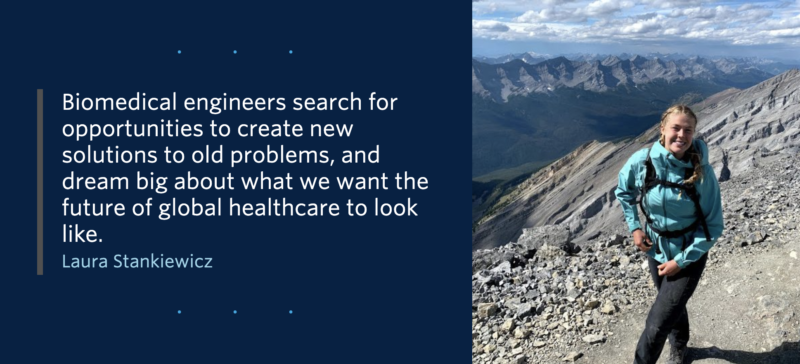 For those who don't know, what's a biomedical engineer?
A biomedical engineer is a problem solver who approaches health and healthcare challenges with a creative, practical mindset. Biomedical engineers search for opportunities to create new solutions to old problems, and dream big about what we want the future of global healthcare to look like.
Can you describe how the program combines engineering, computer science, math, medicine, and more?
I think the best way to see this integration is to look at the diverse research backgrounds of the faculty in SBME. These instructors create curriculum to teach their discipline, which means we have graduate courses in subjects ranging from pure math to stem cell biology. Even the students in these classes are usually coming from a mix of biomedical engineering and other course-specific disciplines. It's been a great way for students to learn how to effectively communicate across fields and to realize the potential for collaboration.
Did you have a career in mind when you chose Biomedical Engineering? Has that career goal changed?
I had always been interested in medicine, but I never really had the chance to explore where research could take me, and I came into the program with an open mind about where I was going after. Over the last year I've learned a lot from my colleagues about different post-grad career paths, whether in industry or academia. I'm still not set on either, and I hope to use my time in the program to gather as much information as possible about my options.
What's been your favourite part of the program so far?
I love the interdisciplinary focus of biomedical engineering. I'm a strong believer that incorporating diverse perspectives and knowledge is necessary to drive innovation; and not just in health technologies. The program exposes students early on to the intersection of engineering and medicine, and prepares them with a common language to communicate big ideas between seemingly diverse fields of research.
What do you think a student needs to be successful in the program?
Two key qualities that I recognize among my peers are passion and self-motivation. This year I've learned first-hand that students who are primarily motivated by their own curiosity and enthusiasm will thrive, and as long as you are open-minded and willing to learn, your mentors are there to guide and support you.
Is Biomedical Engineering something you'd encourage other students to pursue?
Of course! These are the people to work with if you want to be at the intersection of basic research and translational medicine. Interdisciplinary research and collaboration is the way of the future. Communicating between diverse experts is inherently challenging but biomedical engineering forces you to practice those skills early and often. Don't underestimate the power of effective communication!
Are you part of any teams, groups or clubs on campus?
I am the Undergraduate Liaison for the Biomedical Engineering Graduate Association (BMEGA). This means I'm responsible for organizing the BMEGA mentorship program and other info nights which connect undergraduate and graduate students. I'm always open to ideas to incorporate into our mentorship program if you want to chat!
I'm also a member of the UBC Varsity Women's Rowing team. Early morning practices aren't for everyone, but watching the sunrise every morning is pretty surreal! If you have any questions about the feasibility of balancing graduate studies and varsity sports, please feel free to reach out.