Awards and recognition
Three MSL Post Docs receive MSFHR 2018 Research Trainee Awards
Information and research abstracts provided by the Michael Smith Foundation for Health Research (MSFHR).
Congratulations to three deserving postdocs, Drs. San-Soo Han, James McCoy, and Samrat Thouta of the Michael Smith Laboratories for receiving the MSFHR 2018 Research Trainee awards!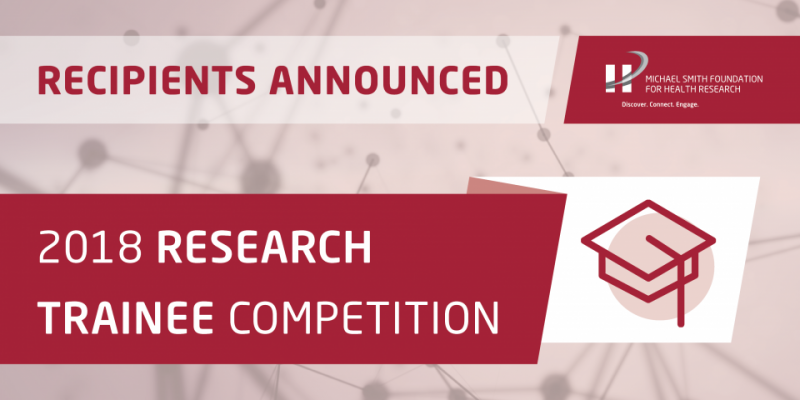 The Research Trainee Program is one of MSFHR's flagship funding opportunities. Since 2001, MSFHR has supported more than 1,200 Research Trainees ̶ health researchers in the training phase of their careers ̶ to protect time for research and career development, ultimately supporting the long-term success of the BC health research landscape.
This year, 33 talented research trainees will receive salary support as they establish their careers and train alongside more senior members of BC's health research community in areas including antibiotic resistance, HPV vaccination and Alzheimer's disease.
Dr. Han, under the supervision of Dr. Tokuriki, will be studying new enzymes to better combat antibiotic resistance.
Dr. Han's research will study and engineer enzymes that could be used as potential antibiotic reagents to degrade a key chemical molecule that bacteria utilize to develop virulence and resistance to antibiotics (biofilm formation). Specifically, Dr. Han will look to discover novel enzymes and perform detailed profiles of these enzymes to interpret their molecular mechanisms. Using state-of-the-art enzyme engineering and laboratory evolution techniques, he will engineer these enzymes for higher stability and functionality and demonstrate anti-virulence and anti-biofilm capabilities of these engineered enzymes, crucial for biotechnological and pharmaceutical applications.
This research program will provide the first mechanistic study of enzymes that disrupt the virulence of diverse pathogenic bacteria, and could have significant impact in the field. Most importantly, this research could provide novel and effective tools to control bacterial population and infection, crucial in the fight against the development of antibiotic resistance.
Dr. McCoy, under the supervision of Dr. Finlay, will be studying the interaction between diarrhea-causing bacteria and their hosts to better understand and treat diarrheal diseases.
Dr. McCoy's research will develop a method for studying the interaction between bacteria like EPEC and their human hosts. His preliminary data shows that a small group of bacterial enzymes control this interaction, and that drug inhibition of these enzymes may block the bacteria's ability to cause disease. Expanding on this, he will aim to reveal how EPEC uses phosphorylation to manipulate the human host and establish infection.
Dr. Thouta, under the supervision of Dr. Snutch, will be investigating the mechanisms involved in sudden unexpected death in epilepsy (SUDEP) to inform treatment and improve survival.
The underlying mechanisms triggering SUDEP remain unknown. Using animal models of human disease and live brain imaging, Dr. Thouta's research will work to define the specific brain regions that promote brain inactivity during SUDEP-like seizures. This will include testing novel anti-epileptic drugs as a potential preventative SUDEP agent.
The results of this research will provide an understanding of the cause of SUDEP and could have a significant impact on epilepsy drug development efforts, potentially leading to the discovery of novel therapeutics for SUDEP prevention.
A complete list of award recipients and their projects is available on the MSFHR website. This includes seven co-funded awards.