Awards and recognition
What's a party without cake? Congratulations to Dave Ng for his promotion to Professor of Teaching!
One look at his Twitter account (@Ng_Dave) and you know Dave's a cool guy. With photos of science experiments, student outreach field trips, and Star Wars GIFs, Dave knows how to make science fun and accessible! A self-proclaimed "science geek" and UBC academic, Dave Ng is the Director of the Advanced Molecular Biology Laboratory (AMBL) the education and outreach facilities at Michael Smith Laboratories (MSL). He runs molecular biology workshops for professionals and science outreach programs for elementary and high-school students, so he definitely knows how to communicate science to the masses. His days are usually jam-packed with all sorts of events ranging from running Science Creative Literacy Symposia field trips to teaching a lab in animal cell molecular biology.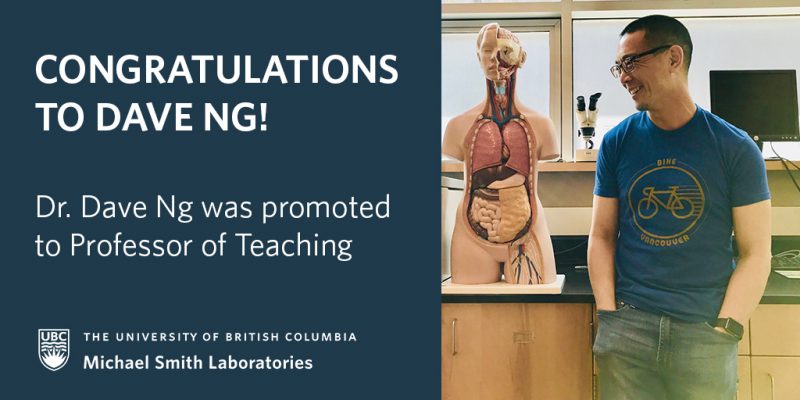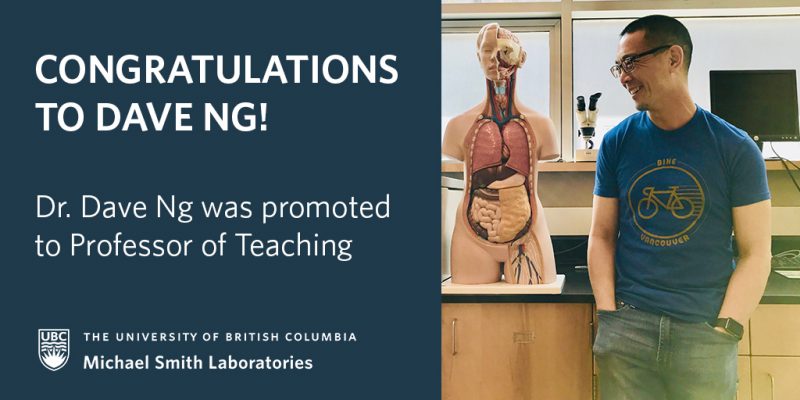 There's no doubt that Dave does a lot for MSL. He has contributed a significant amount of time into building the AMBL and has developed an exceptional outreach program. Dave's work in teaching, graduate supervision, service, and overall educational leadership, was recently acknowledged through his promotion to Professor of Teaching! This promotion was the result of a multi-leveled, rigorous review conducted by Dave's immediate colleagues, those within the larger UBC community, and external parties from around the world. It is a big achievement and represents one of the most important decisions made by the academic community at UBC. Dave's promotion was celebrated by the entire department and included lots (and lots) of delicious cake! It was a wonderful opportunity to slow down and thank Dave for his contributions to MSL.