MSL Faculty Candidate Seminar: Dr. Jose Silva
March 4, 2020 @ 9:00 am

-

10:00 am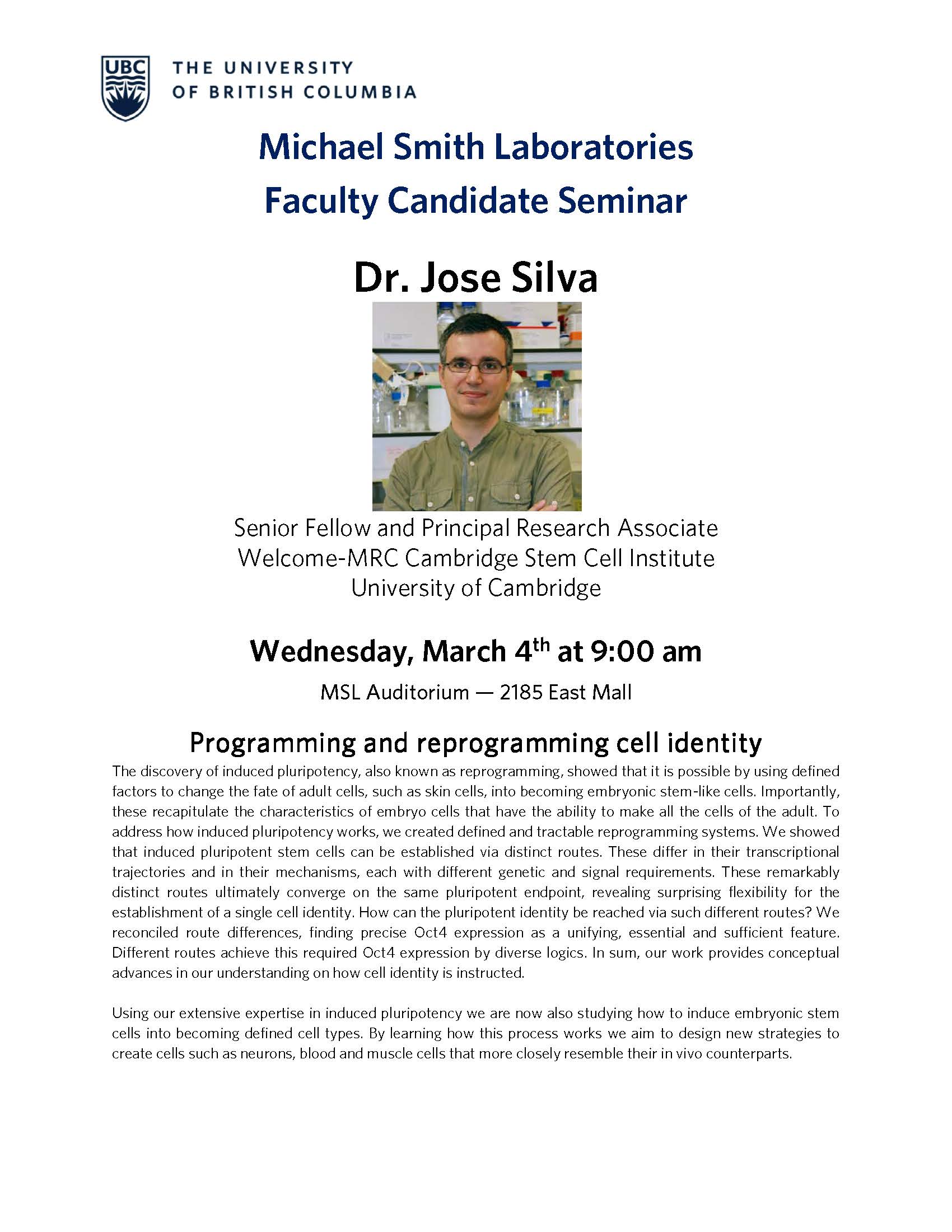 The Michael Smith Laboratories presents a faculty candidate seminar:
Dr. Jose Silva
Senior Fellow and Principal Research Associate
Welcome-MRC Cambridge Stem Cell Institute
University of Cambridge
Date: Wednesday, March 4th 
Time: 9:00 AM 
Location: MSL Auditorium (MSL 102) – 2185 East Mall
Title: Programming and reprogramming cell identity
Abstract: The discovery of induced pluripotency, also known as reprogramming, showed that it is possible by using defined factors to change the fate of adult cells, such as skin cells, into becoming embryonic stem-like cells. Importantly, these recapitulate the characteristics of embryo cells that have the ability to make all the cells of the adult. To address how induced pluripotency works, we created defined and tractable reprogramming systems. We showed that induced pluripotent stem cells can be established via distinct routes. These differ in their transcriptional trajectories and in their mechanisms, each with different genetic and signal requirements. These remarkably distinct routes ultimately converge on the same pluripotent endpoint, revealing surprising flexibility for the establishment of a single cell identity. How can the pluripotent identity be reached via such different routes? We reconciled route differences, finding precise Oct4 expression as a unifying, essential and sufficient feature. Different routes achieve this required Oct4 expression by diverse logics. In sum, our work provides conceptual advances in our understanding on how cell identity is instructed.
Using our extensive expertise in induced pluripotency we are now also studying how to induce embryonic stem cells into becoming defined cell types. By learning how this process works we aim to design new strategies to create cells such as neurons, blood and muscle cells that more closely resemble their in vivo counterparts.
Related Events