Awards and recognition
Mopelola Akinlaja wins second place in the UBC 3MT competition, encourages grad students to challenge themselves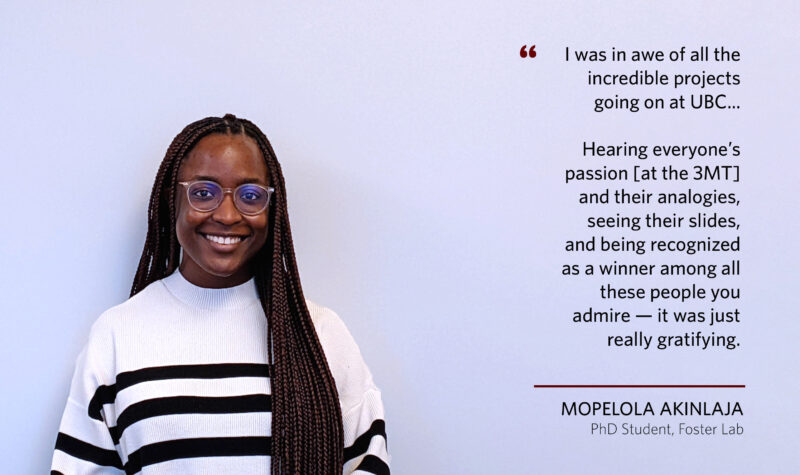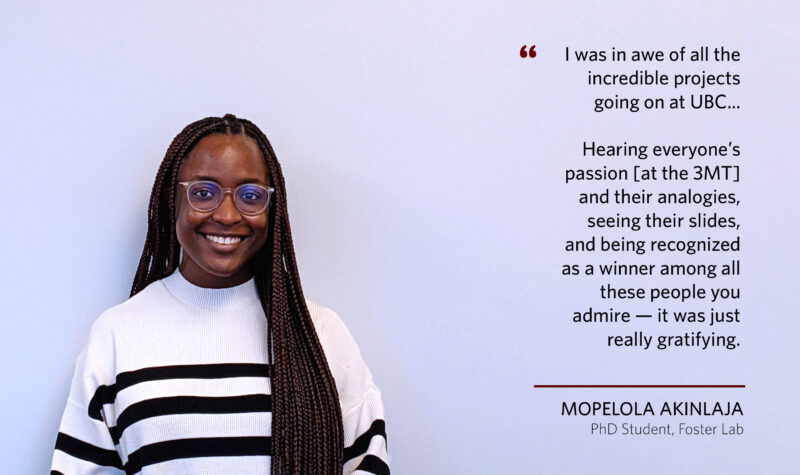 "I love to communicate, but I get really nervous speaking in front of people. When I heard about the Three Minute Thesis at the start of my degree, my first reaction was like, 'Oh, no.'"
Mopelola (Lola) Akinlaja faces a common dilemma: she loves sharing her science, but hates public speaking. This year, she challenged herself to take part in UBC Three Minute Thesis (3MT), where graduate students explain their thesis topic using one slide, in three minutes or less. She placed second in the competition, which featured over 28 UBC graduate students.
"I'm getting close to graduating, and if there's anything grad school has taught me, it's to challenge myself and push my limits, especially when I have a goal," she said.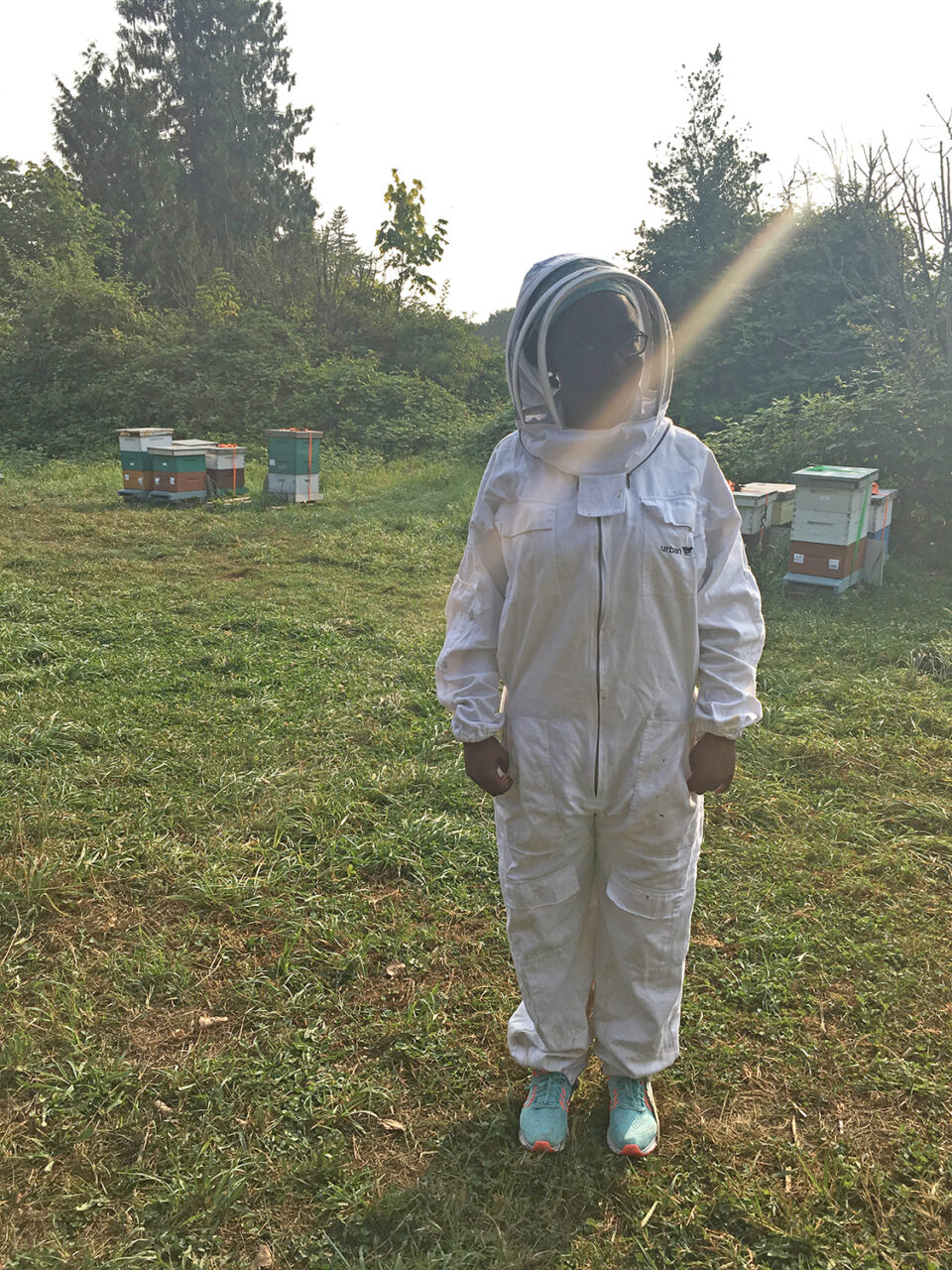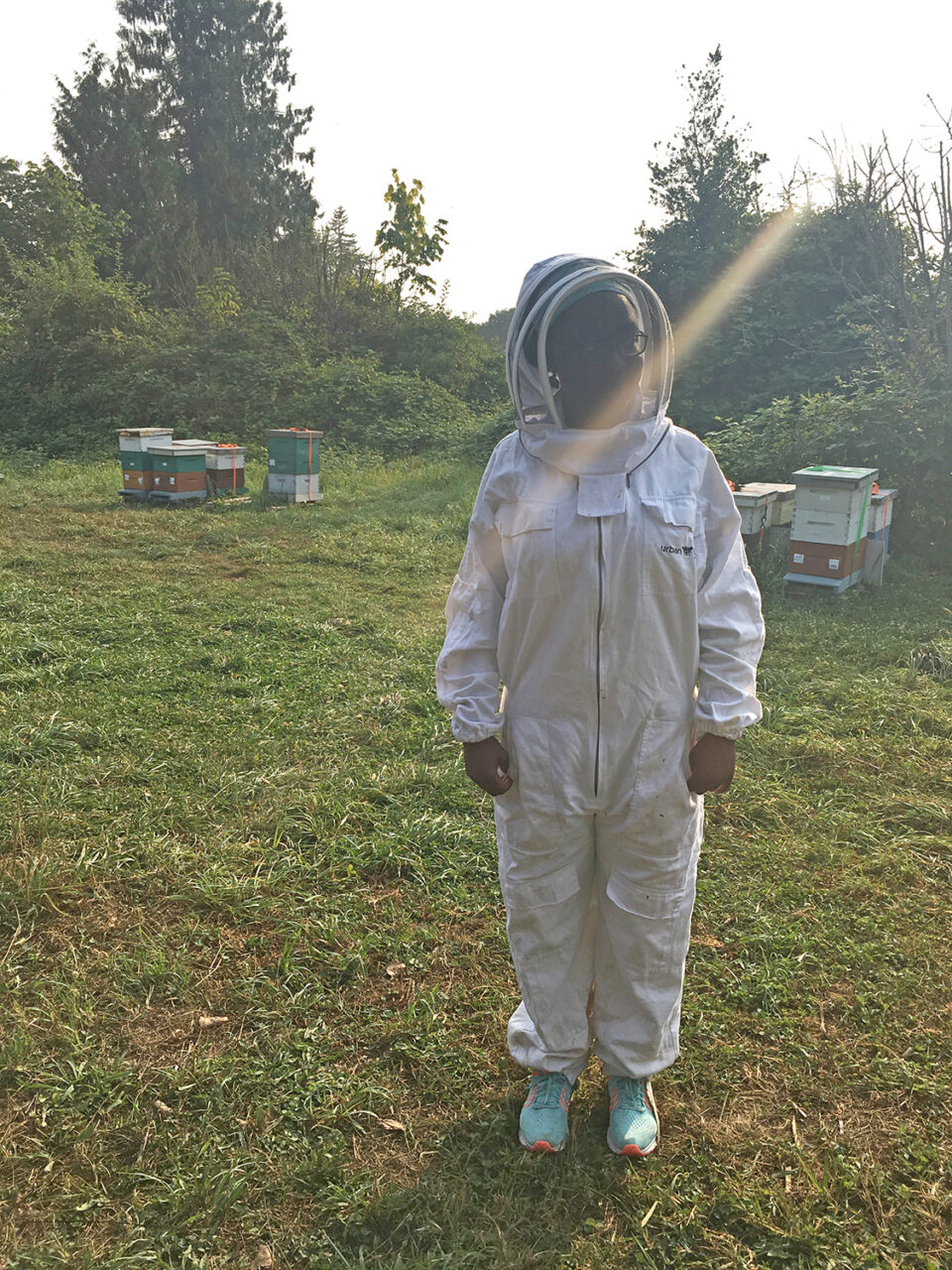 A chemist by training, Lola worked at an agrochemical company before graduate school, where she is now a fifth-year PhD student in the Foster Lab at the UBC Centre for Blood Research and Michael Smith Laboratories. Her research aims to understand how a pathogen called Nosema causes infection in the honeybee gut – specifically, how Nosema disrupts important protein interactions in the gut, leading to illness.
She approached the 3MT with the mindset that at best, she might win, and at worst, it would be a good learning opportunity. Reflecting on her experience, she emphasized the importance of personal growth from getting feedback after every 3MT heat, and from watching other students' presentations.
"I thought I would be a little sad to come in second, but I was actually so happy, because all of the ten finalists' talks were so, so good," she said. "I was in awe of all the incredible projects going on at UBC. Hearing everyone's passion and their analogies, seeing their slides, and being recognized as a winner among all these people you admire – it was just really gratifying."
Though she still finds public speaking nerve-wracking, Lola emphasized that communicating to the public is an essential skill, one that every scientist should learn. She actually views science communication as more of a responsibility than a hobby, a perspective that helps her overcome her fears.
"I was that kid who always asked questions that people might think are 'dumb'. But honestly, I don't think that any question is too silly to ask," she said. "I truly believe that anyone can understand any concept."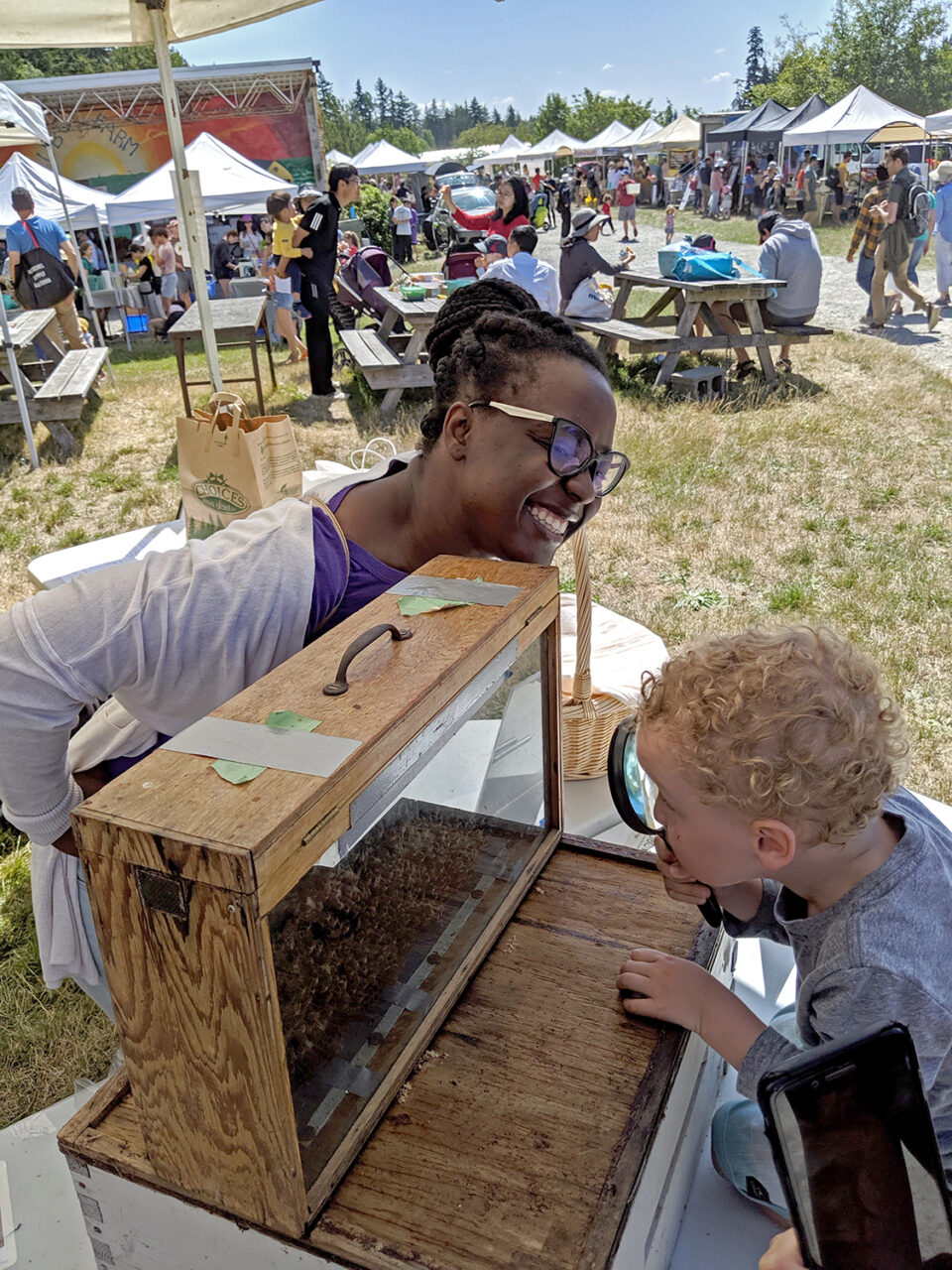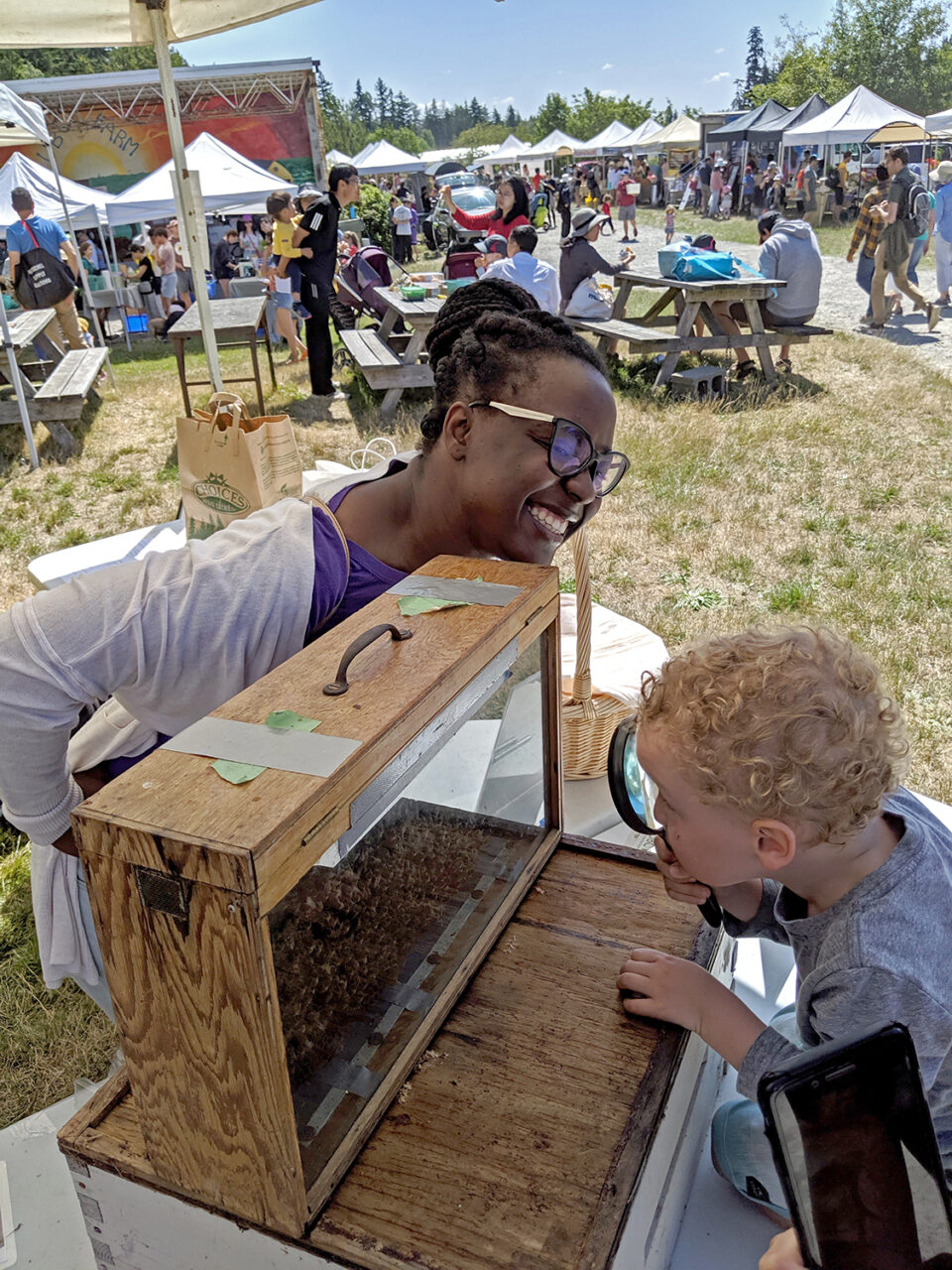 Even in the span of her PhD, Lola said that there were certain concepts from her first year that she found difficult to understand – concepts that she can now explain with ease, several years later.
"Sometimes you just have to take extra care to explain something technical, and make it accessible to whoever your intended audiences are. That's also the value of events like the 3MT, which help you practice that."
Outside of the 3MT, Lola also shares her research with Grade 4 to Grade 12 students through outreach activities from the Michael Smith Laboratories, and was formerly a Community Scientist with Science World. She hopes to spark the interest of children and younger audiences, and to reach underserved communities who may face barriers to education, or be unaware of scientific opportunities.
Along with collecting and analyzing more data for her thesis, Lola's plans include participating in more public speaking initiatives with diverse audiences, and to eventually launch a science communication page on Instagram.
"I'm really grateful that I've been surrounded by people who fostered my curiosity, and people I could ask questions to," she said. "That motivates me to pay it forward and make science easier for others to understand, just as people have explained things to me."
image captions/credits:
header image: Mopelola Akinlaja. Image credit: Centre for Blood Research.
Lola puts on a bee suit and tries beekeeping for the first time, during her first month in the Foster Lab, in August 2017. Image credit: Mopelola Akinlaja
As part of a science communication fair at UBC Farm in 2019, Lola speaks to a child about bees, which are safely kept on a frame inside the box with a transparent window. Image credit: Mopelola Akinlaja.
This article was originally posted by the Centre of Blood Research