Awards and recognition
Sabrina Leslie awarded 2021 Killam Accelerator Research Fellowship
We extend our heartfelt congratulations to Dr. Sabrina Leslie, one of six recipients of the 2021 UBC Killam Accelerator Research Fellowships (KARF). This annual award recognizes early-career researchers for their exceptional achievements and broadly impactful research projects. Established through a bequest from the late Dorothy J. Killam, award funds are provided from the Izaak Walton Killam Memorial Fund for Advanced Studies. KARF awards help to catalyze innovative research projects, propelling them forward to the next stage. Dr. Leslie's award funding will commence in 2022 extending to 2024. 
Dr. Leslie (she/her) joined the Michael Smith Laboratories in 2021, moving her biophysics lab from McGill University. The Leslie lab's research innovates and applies quantitative imaging tools to help "connect the dots" between microscopic measurements made of single molecules and cells, and biological measurements made of tissues and organisms. Focusing on the biophysics of molecular interactions, the lab has invented a tether-free imaging platform called Convex Lens-Induced Confinement (CLiC) that allows researchers to observe single molecules' behaviour. Leveraging the data collected from observing these interactions, the Leslie lab hopes to inform the development of more effective and personalized medicines.
"I am honoured to receive this award to help accelerate our research, especially at a time when new biophysical insights on vaccine and genetic medicines could make a practical difference to the pandemic, and training young, talented researchers can help energize the growth of our local biotechnology sector helping guard against future pandemics."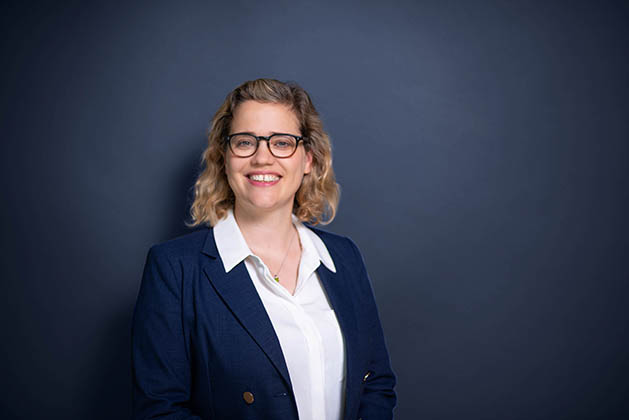 Dr. Leslie's lab is focused on three research projects using their pioneering CLiC technology. The first aims to better understand how DNA, RNA, protein and lipid macromolecules interact within the crowded environment inside cells. Building on these findings, the second project aims to determine how to use high-resolution measurements of drug-target interactions to optimize the performance of new drugs made of DNA. The third project seeks quantitative understanding of the lipid nanoparticle vehicles carrying drugs and vaccines made of DNA and RNA, and their various biophysical properties.
"Since our work requires bringing together aspects of physics, mathematics, and biology, we rely on strong collaboration and open communication. In applying cutting-edge quantitative tools to the edge of complex biological systems, we are constantly reminded how much we do not know and are excited to learn new things. We are curious, inventive, and optimistic in the face of challenges."
Working in partnership with thought-leaders in the health sciences, Dr. Leslie's work propels innovation in the development of novel medicines and therapies, which could reduce side effects and improve health outcomes. We look forward to learning from the discoveries Dr. Leslie's research produces and are thrilled to see her work supported with this award.
Quick links: